M.D.s and D.O.s in Early California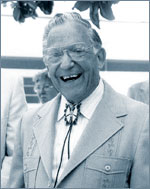 Dr. Richard E. Eby, DO, interviewed by Dr. Michael Seffinger, DO
at his home in Victorville, California
2001
Dr. Seffinger:

This is Dr. Richard Eby. What was the culture of osteopathy in California like from when you became a medical student on until about the late 1950's to 1960's. That time period is just not well documented; we don't know much about it.

Dr. Eby:

I graduated from the College of Osteopathic Physicians and Surgeons (COP&S) in 1937.

Dr. Seffinger:

It appears that the osteopathic profession was doing quite well in CA at that time but how well they were doing is not in the history books and I think that is the part that I really want to focus on. Who were the osteopaths back then? What were you doing? We have these questions that will help you focus on that. Would you like to talk a little bit about how you became an osteopathic physician?

Dr. Eby:

First of all I want to thank the audience and the student and professor from Western University of Health Sciences who have made it possible for me to recall many things which in the last half-century I have not needed to think about. All of them are exciting to me but may not be at all of interest to others. And how did I become a D.O. in the first place perhaps contains the seeds of the answer that you want. First off, I was born under President Taft's administration about the time when the last two of the forty eight states were admitted. My mother's obstetrician recommended her to take me to a lovely lady from Kirksville MO who just finished a course under a fellow named A.T. Still to be my pediatrician.(Aside: A.T. Still was the only man in the world who knew what he was talking about at the time he started a college in Kirksville, which you know about. He was telling people the secret of getting good health. Giving good health back to people is to recognize that they have a skeleton. Now medical (allopathic or regular) medicine had never recognized the skeleton as anything except to hang muscles and organs on; it didn't participate in livelihood as far as it was concerned'). The obstetrician allegedly said, 'I don't care what she is, if she's a nice lady that takes care of little babies', so they call, she says 'well sure'; she didn't have patients yet, just been there a week or so. Now she was then my official doctor from the time that I was 3 months old to the time she died because I kept in touch with her. Consequently, when I got out of junior high I wanted to be a doctor and so in asking her about it she was telling me about her background under this unusual man. Now none of us living now who have not met him would know that A.T. Still was not just the man or any old doctor. A.T. Still had been given, as far as I'm concerned by the good Lord, the insight into the relationships between the skeletal formation that consisted of the man before you dress it up with muscles and skin and everything and that it had never been in medical history recognized as anything but something that carried calcium and joints. To me that was very exciting, so I looked into osteopathy and of course the only thing that I could find out was that it was headed by an A.T. Still, who himself was an old man, but he was the best old man in the Midwest. That very year in my being in high school he had been given an award by the children's magazine group. It was the number one magazine of the United States even going to Alaska because they had publishers who knew how to do it and they had a contest on who is apparently the smartest and most respected doctor in the United States. By a landslide, the report came in that this A.T. Still who had patients from Alaska to Florida and the Midwest was elected as apparently the smarted physician on the continent because he not only knew everything the MDs apparently did, but he was also emphasizing the fact that if you didn't know what the skeleton had to do with health and the utilization of medicines then you were missing the boat. So, that of course stuck in my mind. To me this story was very exciting. At the age of 13 months, I still weighed only 13 pounds and was about 11 inches long. A big lump developed in the right groin and it was diagnosed by all the local doctors in Pittsfield as a fast growing tumor of some kind. They weren't sure what kind, but they weren't going to touch it because it would kill the baby just operating on it back in 1913. The only thing they had was chloroform, so my mother and father said, "Well, what would you do if it were your baby?" to several of the doctors. They said out in California they have a bunch of doctors…they got a big hospital called the Los Angeles County Hospital, the biggest in the world at that time, it had about 8000 beds. When I was there it was 8,000, now it's 16,000 I think it is, but anyways, it's the biggest in the world. Consequently, the doctors back there said, "if you're going to have the baby operated and you know it's going to die. Do you have any relatives out there?" So my mother said, "Well, isn't that strange my mother lives a block from the county hospital out there." Now that had to be prearranged, so I was taken in a suit case 'cause I fit in a little suit case. A young doctor, who was just in school, a junior and his name won't come to me right now, it's in that bachelor's dorm but he's well known. So he was there, they operated and obviously it worked. Let's leap ahead now, I'm 19 years old. I've got to go to medical school. I'd like it to be an osteopathic one although there aren't any schools near where I lived. I write grandma again and I said, "Is there any truth to the fact that there's an osteopathic school going up next to the hospital?", because my mother had said she thought she heard that, "Well, what's the address?" I called them up and, well, they gave it to me. So, I wrote. I said, "Whoever you are in charge of admissions, if you have a new college out there I would love to apply at least if I could be of any help maybe I could do something for you", because I was always the guy that was crazy enough to think it was worthwhile thinking in advance to do something. Anyways, I got a letter back, not for an application though. The letter said, "This is the President of the new college, I've been here for years now and I have never seen that name Eby except on the little baby I operated on." So he said, "I won't even send you an application, you're in". Of course I took the train out. He met me with a doctor's satchel full of dissection instruments to use in order to autopsy and then he said, "By the way, can you read and write?" and I said "I had to in order to get out of high school." He knew it of course, and he said, "We don't have an organized library at my college yet. Did you ever do any library work?" I said, "I read two or three books about it, that's all". He asked, "Will you take charge of it? You're the only one that I think could do anything." Right off the bat, the first week I was the head librarian. So that was part of my introduction to the college. I began working in the library at the college in 1931 and I made a deal now that I don't recommend to anybody. On the first day of classes I went up to the new dean, now he's a new dean. I didn't know what his name was I said, "You're the dean?" "Yes", he said. "I'm the dean". I said, "Are you the one that gives special dispensations to any students that ask you?" Well, he looked at me and said, "Not very often. Well, what do you want?" I told him I wanted to go to med school and that required 4 years of premed before you can get in. He said, "What's that got to do with the dean here, with myself?" And I said, "Well, if you can tell me that you will give me permission to go back home and do two years of premed college instead of four years, [complete the requirements] in two years, then I can get out to your school with the money that I can still get from my dad." I go to the dean, finally the dean said, "I'll experiment with you Eby. You don't talk like a normal person." I said, "Well why should I, they don't always say what I want to hear." Anyways, he wrote down what I had to take in two years to complete the requirements instead of the usual four year for a premed and it worked. I studied all day and night besides traveling all around the country for those two years with a boys' singing group. I organized a male choir and on the weekend we would sing in churches and banquets and all just to get us away from the campus. So a lot of this doesn't seem to be generally applicable maybe, but the point is, by the time I would enter an osteopathic college I had a background of meeting so many people and had many interesting experiences. It makes me sound like I was smart but I was just a normal kid out of Massachusetts who had an abnormal mother and abnormal father intellectually that decided that if a kid wants to grow up and be anything he's got to start out with that goal. Well, I said I'm going to be a doctor. I'll meet all kinds of people. I have to talk 3 or 4 languages. I'll have to do the other things. Well it sounds sort of egotistical, I know, but that was normal in those days. So that was the way I became a D.O. Becoming a D.O. became the goal for which I've been put on earth and for sure I was put on earth for some reason. The head of the hospital, a wonderful gentleman in charge of everything that goes on relative to education, came up to me and said, "We had a meeting of the hospital board and they put you down as their number one applicant for intern and residency to the county hospital." Now in that time, that was the biggest hospital in the country aside from Harvard and Yale and I had been interviewed by all of them. They didn't have a thing to tell me that I wanted to hear, just on how to make a quick buck and how to get yourself in politics; that was all the desire or attraction in those days. Now the question you asked originally, what has changed in the 60 years which passed from 1937 till now in the osteopathic picture, a great deal.

Dr. Seffinger:

Before you get into that, could you paint the picture of what it was like in 1931 and 1937? You came to CA. What did you see? What were the D.O.s doing? What was the stature? What was the hospital like that you went to? Can you tell us what it looked like from you eyes coming from Massachusetts? Who were these guys?

Dr. Eby:

That is a good question, who were these guys? Even the people in CA weren't quite sure who they were because they were called little m.d.s by the real ones. When we discovered we were just called the 'little m.d.s' by the public mostly in those days is because the real MDs had said there's a bunch of quacks coming in from Kirksville and 4 or 5 eastern United States osteopathic colleges. Of course that didn't do anything for our excitement, so we decided that we as a group at this particular college called COP&S (College of Osteopathic Physicians and Surgeons) under fine administration, all gentlemen, we'd make it the best. So that's what I got into, was the class that were all added to make it better than it'd ever been, and succeeded. The politics however were of course available to anybody that asked because that's the way kept by the medics. Now I'm not putting down the MDs, they were in their business because they wanted to be MDs and nobody should stop them in my opinion. But what they wanted to do was to stop everything else. There was a war coming up, a big war; a world war and the world war would require great numbers of MDs to be conscripted from their practices to go into the army, navy, and air corps. The United States just drained their medical personnel for the 3 or 4 units of our armed services. Anyways, what I did was immediate when I learned that Pearl Harbor had happened, I wrote to the president of the California Osteopathic Association and told him by whatever means he found available to send a letter to the Surgeon General of the United States (he was the one conscripting all doctors into the army and navy and air corps). So telling him that the CA COP&S, principally me, we got a few members but…. Eventually we would all as a unit go into the armed services as our contribution to the American war effort. Consequently, we got a letter back saying 'no' only MDs because they're the only doctors that are 'trained'. He said he had no authority to hire a DO anywhere [in the armed services as medical officers], "But I suggest to you tell all your members, however many you got, 5, 10, 100…that not only should the D.O.s stay at home"…but he let the world around know that they should go to a DO if they can't find an MD. It was the biggest boost that we ever got. So that was what happened there. And I always have told my friends that if it hadn't been for an angry surgeon general, angry at DOs for even asking, that we probably would have been 30 years behind where we are in being recognized. He didn't know that we had DOs in Washington DC making recommendations on public health policy. He didn't know who would be in charge of civilian health during the absence of the MDs when they went into the services. Within the 4 years of the war the word had gotten out to all America that these guys are not "little m.d.s." They're doing a better job than their former doctors in most cases and we did so simply because we had to, to be sure.

Dr. Seffinger:

Now just to give the listeners a background here, the DOs in CA at that time had full licensure rights, unlimited licensure rights, but that wasn't the case across the country.

Dr. Eby:

In 90% of the states it was though.

Dr. Seffinger:

Illinois did not allow that until the1950s.

Dr. Eby:

They had more MDs in Illinois than Michigan. Then they just had a meeting of the MDs; they said 'let's get rid of the osteopaths because they're in our way'.

Dr. Seffinger:

But in CA you had unlimited practice rights since the beginning of the 1900s didn't you?

Dr. Eby:

Yes, and we had the largest membership of any state in the union as we had 2500 DOs already. Who didn't want to come to CA? We invited them. So we had the biggest group of DOs that were in any state. All of course were dedicated to stay in the area if they could. CA had the sickest politicians in the country, always will have, had the most money and had the most MDs too per state. CA wasn't going to allow the DOs to stay in the upper bracket of recognition, so that is when the MDs devised the cleverest deal they could have done because we weren't smart. They said in their meetings and in their bylaws now that they would form a 41st society of DOs. Now they had already for years had 40 medical societies throughout CA, you know, just like we do, we have county osteopathic societies.

Dr. Seffinger:

I heard that things had started to go into the works in terms of merging since 1941.

Dr. Eby:

You're right. 1941 was when the MDs started it but denied that they did start their efforts to eliminate osteopaths. I believe in 1941, the MD societies in CA all had separate secret meetings underground at night or whatever it took to be secret developing bylaws that would ever prevent DOs from practicing in CA. Strangely enough, it took us about 3 years to find out. They did such a good job, during that time they went to every susceptible DO. But the point is that by 1941 they officially started then by 1960 the word had gotten to the AOA that something was going on in CA. Instantly, when the AOA found it out, we decided maybe our best approach would be if they would simply admit they were our ally. We had secret meetings in those days. We had to meet in Italian restaurants underground in LA in backrooms where it would be most unlikely a group of DOs would be having special meetings during this conflict. You can't believe it, it's just like mafia in a way, sure enough we had enough patients that were Italians that if anybody that says 'where are you going Thursday night?', well, 'I'm going to an Italian dinner in LA' but that wasn't what it really was, it was the formation of the proposed Osteopathic Physicians and Surgeons of California.

Dr. Eby:

In 1961, we finally had gotten through to the AOA. The past president of AOA for a while, forgot his name, he took our side at the AOA level and the first thing we knew about it was that there was to be a special meeting in Miami, Florida in January 1961 to discuss [the AOA Board of Trustees vote of November 20, 1960] that the California Osteopathic Association would be disbarred from continuing as an osteopathic state association. The first thing I know is I'm contacted as a potential leader in CA to be there. I hate that word 'leader', because I'm not, I'm just an ordinary guy off the street having a lot of fun. So I said, "I won't go there, unless I have the executive director of the Osteopathic state association come with me, because his business is listening to words and hearing what's said wrong. So he and I paid the tickets to go to Miami, Florida to sit in the back row. And then of course, in the middle of the meeting or so, it was so obvious that the AOA knew nothing about CA except our address on a mailing machine. That was the ignorance that I couldn't believe, and I said I joined this outfit? Anyways, so my executive director, a fine young gentle that just believed in this 100% he said, "Dick you're the only one that can get up and tell these people off." He said, "Why don't you get up and say something and ask for a break." I said that I don't have the authority. He told me to take it. I replied, "I don't even have a piece of paper to even write a few pointers on", so he tore off a newspaper that he had and I wrote on my knee points 1,2,3,4,5 that I would talk about. So I'm raising my hand and I'm way in the back. The presiding officer whom I've forgotten said, "Who's hand is that?" I said, "Dr. Eby, California." He said, "What do you got to say?" "Plenty" I said. He replies, "Well come forward and don't make it too long 'cause we know what we're going to do. We already had a meeting of our board last week, and we're going to discontinue CA." So that was that, a more colorful moment in history I suppose you couldn't imagine. Anyway so I walk forward, never talked to that gang, the whole AOA board there, the board from several states which are involved and whether they want to follow CA or not including just those two from Arkansas. I told them what I thought That somebody had the ingenuity to start a profession called Osteopathy. That somebody had to have the courage to continue it if it was valid. If they don't continue it, then they indicate as a national group that they don't believe in it. So I said, "All you non-believers on the pole over there, you better think before I sit whether you want to tell the world that AT Still was a crap shooter that happened to get a few craps into his glove for a temporary thing but that you're willing to throw him into the ocean and let him drown." I forget the exact words but you get the idea. So he asked, "Are you through?" I said, "I'm through, except telling the entire audience from all over the country, DOs and proposed DOs, that either you belong to something whole-hearted or no hearted in this case, and the only thing that we will agree to in CA is that osteopathy is part of the CA picture in medicine. We have done more for medicine than just suggesting that the body works as a whole. If that's the only thing you want to tell people, that is at least more than has ever been proposed by the medical group." Anyways, I go back and to my utter surprise, the moderator said they didn't expect to hear this, that it was a new slant. He said, "What I'm going to do due to the lack of time is call for a vote right away. Do we disclaim CA as a member of the profession and the COA as a member and so forth, or are we to reconsider the possibility of making the COA our representative of the AOA." In other words, COA was a state association, at that moment it had no stature at all because nobody would stand up for it. So there was a murmur and all. Ten minutes were given to talk it over, because he couldn't hold us all very long. Everybody was working together but they didn't know it, so pretty soon he has us raise our hands to vote and I think it was all but two states voted to re-accept CA as an integral part of the AOA [with the Osteopathic Physicians and Surgeons of California (OPSC) as its representative group. It upheld the AOA Board of Trustees vote to remove the COA charter.] So that was the biggest day of my life up till then. Now all we had to do then was to form us a state association that would outlast COA and of course that would be me again because fortunately that's the way the cards fell. So when I got back that week we simply proceeded to select 12 of the D.O.s that had decided to be D.O.s come hell or high water. That's what it came to. As the board members for the first board of something, which we would call the Osteopathic Physician and Surgeons of California. We had excellent people. Ethan Allen was always the leader. Viola Frymann, the biggest brain in America, in the female head. She had all these things ready to go and of course there were others that were on the original boards. You'll find them all printed on the original bylaws and of course when it came to the meeting for me to say 'now I want you to select your president of the new association here in CA', well of course I should have fought the crazy notion of those guys to make me the first president. "You're the only one that knows what you're doing here, and you keep it up." I said, "Well, then next year you ought to get a new president because I'm going to see to it in the bylaws that we have annual elections because no one's is going to take charge of this for several years in a row. I had to establish it almost personally with the help of my lawyer because he knew the legal things and I didn't. But it was done by just pure guts and stopping my practice for 2 years at least. Well, that's sort of the story as to how I got to be President of the OPSC.

Dr. Seffinger:

I want to go back. Why would the MDs consider the D.O.s to be equivalent in CA enough to say here's our degree? To me, it means that they recognized that the D.O.s were just as good doctors as they were if not better. In fact, maybe even a threat to them and they wanted to get rid of them because of the competition. This is what I'm thinking. I'm not sure if that is true. But from your perspective, did you feel that the people and also the MDs and other D.O.s across the country feel that the California D.O.s were top notch doctors and they were a prize to be won in a sense?

Dr. Eby:

Sure we agreed to that but the MDs never did. Behind the scenes while they were handing us the offer for $65 to be MD, were would be members of the new 41st society. So we go to work to find out what's the 41st society. It turns out to be a phony. It turns out, it didn't really exist, but it would have contained all the ex-D.O.s that came in by buying the license. So it was my job then to tour the state to lecture wherever I could get a few to listen. Your surgical…our surgical diploma what do you call it…if you're a surgeon, in other words, if you want to be an osteopathic surgeon have to have a certificate. You just lost it. In other words, we found out the DO specialists were promised, by the MDs wanting to get this merger done for their political esteem, that, "whatever you have as a recognition from your own profession already, we will duplicate it and we will give you the same rights and privileges as any MD that has the same qualifications." Well, of course, that was the biggest lie they ever told because they never did it. Then, during the proposition 22 initiative on the ballot in 1962, what they did was to print the ballots so that when you voted "Yes" thinking you were for the DOs, it meant 'yes you were for the DOs giving their profession to the MDs'. And, so, consequently, we got tens of thousands of votes on "yes, do it", when it meant "no, you were out of business". So we were out of business. They voted that way. That was when we had a little bit of work to do.

Dr. Seffinger:

I would like to hear how glorious it was between 1930 and 1960. I think that the osteopathic profession was quite incredible in CA; it was the top profession probably in the nation. California DOs were able to do more. They had more going for them and I think it started with the school. If you could talk about what it was like being a student there and your professors. What about the schooling and then how it was becoming a DO in California? What was it like day to day and what were the people like? You had built up quite a reputation.

David:

What topics were emphasized? How did they teach you to take care of patients and how to think about patients?

Dr. Eby:

As a preliminary to the answer, I can simply say that Osteopathy appeared on the world scene about the time the world was going from an agrarian to an industrial type of an education and attitude. Consequently, California came on the scene about the time that this vast change from agriculture to industry and all the variations thereof were hitting the west coast at the same time the west coast was about 15 years behind the great depression of the east coast. So as their depression was wearing off, this was intensifying. I got here about during the intense beginning of the California depression financially. It probably made a little difference as to what the school would have been let's say today. But let's say the way it was when I came into the school then, mostly the world war was providing applicants for Osteopathy because they were included under the war agreements (G.I. Bill) for soldiers and sailors going on. I'd say a good share of my classmates were taking it under the government, which made it a different kind of a school from the aspect of what kind of people did you have believing that osteopathy was the coming thing. Most of these fellows did. Most of them who had had any contact with Osteopathy at home before they left for war had remembered that the DOs were known best in their locations as the friendly doctors, the ones that paid more attention to the person than the pocket book which we wished to continue. When I got here then everything was pretty cheap, my daily expense for food was 15, 19 cents and the tuition of course was I think $875 for the year. Nobody had any money, even those out of the air corps and army would only have what the government gave them for pocket money it was about 2 or 3 cents I guess. When I was an intern, I was being paid $10 per month for 30 days work and so forth, those were the prices when I was an intern. Then I charged about $1 a pound per baby, that way we kept the mothers from getting fat. That was nine months care per dollar and somehow we made it. Nobody had anything. Now getting back to this, the school itself. Well they were fine people the only faculty you could get then were professors. I would say that the difference I've noticed, it really isn't factual because I don't get down to the College in Pomona often nowadays, at least there isn't the camaraderie which automatically existed the minute you stepped on campus in COP&S in LA because they were there against all the poor public relations that had been established. They wanted to be DOs because they knew they wanted people to get healthy whether it cost them or not. We had about 70 to 75 in each class. I taught OB/GYN of course. They were all people of the quality of the Viola Frymann and Ethan Allan. They were really in there to be DOs. They didn't care about becoming an MD or they could have gone to 6 or 7 colleges right here in CA. But it's true what you initially said that the DOs that wanted to be DOs in every sense of the word were proud of it and practiced osteopathically. They had pretty well come to CA to study and practice osteopathy. The profession was growing; it was the best state in the union from the stand point of predictions. Now I don't sense that when I go down [to the current school in Pomona] because I don't have time to mix with the students.

Dr. Seffinger:

When you say being proud to be a DO, what was a DO back then in CA? Could you define what it meant then?

Dr. Eby:

It means being a complete practitioner.

Dr. Seffinger:

Go back a second, back to the school, you were in the school, you had OMT as part of your training, manipulation as part of your training?

Dr. Eby:

That was the best OMT in our profession. The reason being the only ones you could get as professors were practitioners on the side. In other words, they had to make money as it was during the depression. They got 50 cents for an office call, while I got 45 cents. So, I would say probably the best manipulative education was given by actual practitioners who took Friday off to come to the college and teach. It was the same with others, OB/GYN surgery and so forth, they were all practicing doctors on the faculty.

Dr. Seffinger:

Did everybody use manipulation as the defining characteristic of osteopathic medicine or is that just something that people learned?

Dr. Eby:

Oh yeah, if they didn't they got kicked out.

Dr. Seffinger:

So this was something that you had to carry into your practice no matter what your specialty was?

Dr. Eby:

Well, of course once you're in practice you're on your own, but as long as you were under the training program you had to have a minimum of 20 patients a week in the college clinic of your own giving them manipulation. And the clinic person would have a sign in sheet, and would go around checking, "Eby", or whomever, so you couldn't graduate unless you had proof that you had been checked out and that you had a hundred patients probably by the time you're a senior because they started you on manipulation from the word go. After all, that's what you went there for.

Dr. Seffinger:

Did people go to the DO school just because they taught manipulation or did they go there because they wanted to become a complete doctor and they could give it to the patient only if they wanted to.

Dr. Eby:

A few, only a few. I would say that 95% of every student body was there during my era and after, because I was still on the faculty there until the closing in 1962. They went there because they had to go, against parent's objections and maybe against their former teacher's objections because the teachers in the undergraduate, pre-medical schools, as you well know, would at some time be likely to ask, "where are you going to get you medical training, USC, UCLA?" If the student replied, 'No, I'm going down to COP&S" their professors would ask "why?" Well as it turned out the teachers thought we were "just a bunch of osteopaths." The teachers were our biggest enemies in high school, just for the reason they knew nothing about osteopathy. They didn't want their training in high school to go into the wrong batch of people. So we were pretty well misunderstood but we kept the profession going.

Dr. Seffinger:

So was there a good deal of documentation on the effectiveness of OMT on the various problems people had?

Dr. Eby:

[I don't know of any in particular]. Well, I suppose you could get 75 people in a room, and you can check them and see if they have a neck or a leg or a hip problem… those were the mechanics we were teaching there. I would say that because they didn't know anything before they went to school they all pretty much abided by what was being taught. There's always somebody who going to try to get out from under the rug. But basically when you took an osteopathic diploma at the end of four years, you gave a better treatment than I can get practically anywhere now. In fact take Victorville here, the only two DOs in Victorville who call themselves psychiatrists will never touch you

Dr. Seffinger:

So that has changed quite a bit.

Dr. Eby:

I would assume they're not doing a good job because if the DOs have been doing a good job since the 1940s for instance the last 60 years we would be running the show without any question. Because 90% of people get older, when they get older and if there's one group that needs osteopathic care specifically, is my age. I hurt all the time. I know what's wrong; not a joint in my body hardly that hadn't been broken or something over my hundred years, not quite a hundred but seems like it.

Dr. Seffinger:

Was there research being done in OMT at that time?

Dr. Eby:

Not much because you couldn't fund anybody without money. And to get a research professor who would actually go into the laboratories and collect materials research wise would have been very difficult to locate. So every student was more or less inspired by the fact that he or she might be the one to discover the better technique. So I go back to our friend that I mentioned before, Allen, right away when I saw him as a freshman I told my wife at home that here was a fellow that would stand out for all the years that he was alive in this field. He had it. He was born with it. He's still recognized as the number one manipulator of that era, so he turned out to be. And it was true that there were a lot of people that didn't want to emphasize manipulation because they were going into psychiatry or ophthalmology. We had excellent eye doctors, and of course they influenced a lot of doctors/students. My friend, a leading ophthalmologist, he just died last year in 1999. He was after me to go in full time as his assistant. Of course, I decided not to because I wanted to be an OB/GYN.

Dr. Seffinger:

Did you treat your babies with manipulation?

Dr. Eby:

Oh yeah, everybody, that was one thing. If you came through the front door of my office, I had a D.O. degree displayed there. I just felt that I should check out anything that lies on the table. So we had a routine the nurses all followed my directions. They had everybody ready when I was ready to go into room 6, room 7, room 8 what not. The mothers just assumed that was part of prenatal care and post natal check and they probably never asked another mother. Oh, here's a sideline, a sideline for you doctors and that is a story about one of my finest professional friends that graduated the year before me from college and worked in L.A. I was to find out meeting him later that he had gone into OB/GYN. And I asked him what had he found helpful in treating toxemia. He said toxemia was killing more mothers than anything else in America. It was just an epidemic of maternal toxemia. I met him one day where I was lecturing and he was lecturing beside me, at a state meeting, and I asked him to tell me about toxemia because he had the biggest practice in LA. He said, "I'll tell you but nobody's going to believe you." He said, "I have not had one mother came in toxemic that stayed that way after two manipulations." I said, "Wait let's go back. How sick were they?" He said, "Well, they were going to die." That's true of all patients with toxemia if you don't treat it. I had several meetings with him after that. So, I said I was going to try it. I wanted to make sure that I treated every mother with manipulation before she went into labor just to see if she would develop toxemia. Not one did. Now in the textbooks in obstetrics, toxemia is still listed as an incurable disease with an unknown cause. Toxemia has to be due, in my humble opinion, to the change in weight bearing which a mother normally has to go through in 9 months and somehow that throws off joints which had previously been adjustable to anything that day and now they can't go as far left or as far right, you know right away what I'm saying. But I was thinking the other day and telling somebody down in LA that the complete cure in two DOs of 34 years ago in OB/GYN, toxemia was that simple, just manipulate them up here and treat them down there, of course be sure they don't have swollen ankles.

Dr. Seffinger:

Were those records kept and documented?

Dr. Eby:

I'm sure that doctor did.

Dr. Seffinger:

Or are those all gone from to profession?

Dr. Eby:

Shouldn't be.

Dr. Seffinger:

Were they reported in any journal?

Dr. Eby:

I'm sure they were all reported if the JAOA would print it. But I haven't seen anything printed in the JAOA.

Dr. Seffinger:

Were your records or your successes printed?

Dr. Eby:

They never asked me.

Dr. Seffinger:

You never wrote at that time, you didn't write articles?

Dr. Eby:

Because they live in a different world.

Dr. Seffinger:

Well there was a Western Osteopath, a journal that came out from LA.

Dr. Eby:

Yes, but we didn't see it hardly, it was a little privately run magazine which had interesting articles but I can't say that I ever saw anything that made me tingle.

Dr. Seffinger:

So the LA county hospital itself didn't have statistics or morbidity and mortality reports every year? They didn't have need to have that kind of reporting back then?

Dr. Eby:

They probably did but they didn't mail it to DOs.

Dr. Seffinger:

Well you had your own unit there, the unit 2.

Dr. Eby:

Yes, but that didn't, you know this kind of…

Dr. Seffinger:

But unit 2 itself didn't it have its own morbidity mortality reports?

Dr. Eby:

Not that I know of, no, we didn't have any money; there was no money except for the political people.

Dr. Seffinger:

So how good were the DOs between 1930 and 1960?

Dr. Eby:

Well they're much better than they've been in the last 20 years. We started the state association in 1961, but osteopathy as you and I define it is a lost cause. In my humble opinion, I don't think there are enough people in the profession now with enough ability or interest beside their own development to re-establish what [A.T.] Still had. Of course I look upon Still as the most amazing character I heard of. When I was asked to take over obstetrics for Kirskville for a couple of years, I got to speak to some of the really old DOs-- the originals that were still on staff when Dr. Still was alive. What Still was teaching was so far above what the average osteopathic college can even do now. He had something that was never duplicated.

Dr. Seffinger:

You never met AT Still though right? You never met him though?

Dr. Eby:

No because he died in 1917.

Dr. Seffinger:

But you met his students who were obstetricians. His students who were obstetricians, you met them?

Dr. Eby:

I'm not talking about that. Because I always gave osteopathic treatments in the college there, the students that would come around. No I was talking in general. If we just had 10 DOs with the innate ability that Still had, we would be on the front page.

Dr. Seffinger:

So when you went to Kirskville to teach there, did you notice that they were learning things that you didn't even learn in LA?

Dr. Eby:

No because we had Kirskville graduates, the professors in LA, while I was there, that's the only place you could get them.

David:

So what was the standard of care when you were in school and before the merger?

Dr. Eby:

For all practical purposes we were pretty close to AT Still's teachings here in LA because we got the Kirksville graduates to come out to the department of the osteopathic manipulation class and we had our own clinic at the college. I don't know what they have now. I've been trying to find out for ten years whether they still have a clinic. Nobody answers me.

Dr. Seffinger:

Well there's a clinic across the street from the school.

Dr. Eby:

I used to go down there for my own blood counts and so forth.

Dr. Seffinger:

So the standard of care for DOs, was it the same as for the standard of care for MDs in CA? If you were a patient, you would go to a DO or MD, would you get the same care or would you get more care from the DO or more care from the MD?

Dr. Eby:

I never thought of comparing them because when I did go to MDs and of course it was for MDs who were doing something that there were no DOs in it, specialties, so there was no choice. I had an acute heart attack here last year over Christmas, and went out, unconscious for two days; they thought I was dying, so, they had me all hosed up, but there wasn't a single DO up here to even call for a consultation.

Dr. Seffinger:

If you had a heart attack in 1939 and you ended up in unit 2 at county hospital would you have been taken care of the same as if you had a heart attack at the other unit at county hospital where the MDs were running it? Was the standard of care the same or different?

Dr. Eby:

I would assume they would be pretty parallel if I heard what you asked.

Dr. Seffinger:

Let's say as a patient, at the county hospital had a unit 2 and a unit 1 I guess. Right? And they had the DO unit separated from the MD unit and if you were to go into one of the units you would get DO care and if you went to the other one you'd get MD care. Was there a difference between the standards between the two?

Dr. Eby:

Oh yeah, in other words if you were a patient of a DO, you had to go to the DO unit.

Dr. Seffinger:

But if you were a patient, and you had a choice would you get something different if you went to one or the other?

Dr. Eby:

I never heard of a choice. I mean you make a choice before you go to the hospital.

Dr. Seffinger:

So the patient would choose to go to the DO unit or choose to go to the MD unit?

Dr. Eby:

If he was referred in by a DO he would have to go to a DO in the DO unit.

Dr. Seffinger:

I see, so it wouldn't be like the MD would say, "oh, go to the DO unit." The MDs would say, "go to the MD unit."

Dr. Eby:

Yes, we had our own unit which the MDs had nothing to do with.

Dr. Seffinger:

So, if a patient walked to an office and he walked into an MD's office he would be sent to the MD's unit; if he walked into a DO's office, he'd be sent into the DO's unit at LA county. There was a segregation.

Dr. Eby:

That never occurred to me, in other words if you were already going to a DO he would be the one to call the DO unit.

Dr. Seffinger:

So if you had a heart attack would you be taken care of in that hospital there the same as you would be taken care of in unit I?

Dr. Eby:

Unless the DO had referred you to somebody that was there on the MD side.

Dr. Seffinger:

Would the care that you'd be given, would it be the same?

Dr. Eby:

Oh I would assume so back in those days.

Dr. Seffinger:

Ok, let's take a pregnant woman who is having problems with bleeding in her 3rd trimester and she had to go to the hospital, and she goes to the DO unit or she goes to the MD unit.

Dr. Eby:

She got the best treatment in the world in the DO unit, that's why I was there.

Dr. Seffinger:

Okay, so the standard of care was the highest it could be. In other words they get anything that they would get anywhere else.

Dr. Eby:

No, the MD unit was always so crowded, 7 or 8 thousand patients a day, you know. Different kinds of patients. What can you do? You only got 200 doctors. Whoever you had had on the outside as a doctor of any kind would be the one by whom you'd get admission because they would not just let you walk in unless it was an accident.

Dr. Seffinger:

So your group, the unit 2 group, you decided you were going to make your hospital meet or beat the highest standards there were in the country, the highest in the world- the best; you were going for the top.

Dr. Eby:

Highest in the world, that was the only one that I applied to incidentally just because I was afraid of getting a cheapskate outfit somewhere.

David:

Who were your mentors when you were in mentor, who were your mentors?

Dr. Eby:

We didn't call anybody a mentor, let's see professor you mean? Who do you call a mentor now?

David:

Someone you wanted to model your practice after.

Dr. Eby:

In the hospital?

Dr. Seffinger:

Yes a professor or a person that who's work you want emulate who you want to help guide you.

Dr. Eby:

It had nothing to do with the hospital out here unless he was on the staff.

Dr. Seffinger:

Someone that you wanted to guide you through your decisions and your education.

Dr. Eby:

Oh, you mean an actual office?

Dr. Seffinger:

No, just somebody who's your senior who's going to guide you through things when you had questions, when you had decisions to make; who would you consult?

David:

Like when you were in the clinic as a student on Fridays and you would go treat patients.

Dr. Eby:

We had 2 or 3 doctors, DOs who were in charge of the clinic and they of course would have about 5 students per day under them on a rotating basis maybe that's what a mentor is.

Dr. Seffinger:

Yes.

Dr. Eby:

I never heard the term used.

David:

So, which one of those DOs did you highly respect and feel like you wanted to practice the way they did or manipulate the way they did?

Dr. Eby:

Well it depends on who it was, in those days everybody was much better than the student, so they'd all respect them I assume.

Dr. Seffinger:

Is there anybody that you found to be someone you wanted to be like?

Dr. Eby:

Oh yeah, 900 of them! One, for instance, was the eye specialist [T.J. Ruddy, D.O.].

Dr. Seffinger:

How did you find a mentor back then? Who did you emulate?

Dr. Eby:

An internist has a certain requirement of time and place in a hospital, at least in those days, he has to have a salary. He has to have all of that.

Dr. Seffinger:

So this is before you graduate, you are talking about a student doctor, 3rd year, 4th year, senior person.

Dr. Eby:

No after you graduate, then you can decide if there is a doctor that needs somebody like you. He'll have left his name and half of these doctors will have contacted you before you graduated, saying, "do you want some office training with me after you have graduated?"

Dr. Seffinger:

Before internship? or you didn't have to do an internship? See now you have to do an internship or you can't practice.

Dr. Eby:

Yes, well, it would be after the internship, yes.

Dr. Seffinger:

OK, so that was the same back then also you have to do an internship to get a license.

Dr. Eby:

Yes, that was part of the problem that they brought up during the merger. But yes, you're right there. One fellow stayed with me five years in my office. He had a family, raised them there, I delivered them all. You know he liked me and I liked him, but his purpose was at the end of which I would then write a summary of our experience together for that 2, 3,or 4 years. What kind of a fellow did he turn out to be, adequate or inadequate, I don't know. That was pretty common back in those days all over the country.

Dr. Seffinger:

Did he graduate his internship and then went to go work with you?

Dr. Eby:

Yes.

Dr. Seffinger:

So he was a licensed doctor already but then instead of a residency he went and worked with you privately.

Dr. Eby:

Yes, you could call it whatever you want, because after all the rules and regulations back 60 years ago were more flexible, most DOs needed a helper…..

Dr. Seffinger:

It's kind of like an apprenticeship after internship rather than a residency.

Dr. Eby:

We didn't call it a residency unless it was one which was documented by the AOA because they have a set of regulations as to what you had to do and what you had to pay.

Dr. Seffinger:

You didn't have a residency in CA back then?

Dr. Eby:

Hundreds of them, but the point is this was the biggest state in the union so you had lots of people. In a sense that there was a traffic pattern incoming students outgoing students, and so forth and that's what made it partly fun. I still have one or two that are still living, students that are living, most of them, everybody's died that I had around. Today I'm starting my 90th birth year.

Dr. Seffinger:

Bless you. That's wonderful!

Dr. Eby:

Most of them of course had other reasons for dying but it's been a fun world.

Dr. Seffinger:

OK, hold on a second.

David:

When you were a student in the clinic, when they brought you in, how did they teach you to think about treating the patient?

Dr. Eby:

You mean manipulation-wise?

David:

Yes, well, just all around, yes, specifically.

Dr. Eby:

Well, it would depend on the kind of patient you had. Let's say you had a patient with acute sacral iliac that particular day, you would then be contacted by the DO in charge of training all students because you probably only had 1 or 2 sacral iliacs come in and there would be a hundred other things. That was the way ours was run at least, so that you worked with the doctor that was given a specific twist or turn or so forth. The purpose was to show him if he didn't already know the approach and how to know it once you have gotten the result that you wanted.

Dr. Seffinger:

What if the patient didn't have a musculoskeletal problem?

Dr. Eby:

Then he didn't get an OM [osteopathic manipulation].

Dr. Seffinger:

OK

Dr. Eby:

Can't have people waste time on doing things they didn't need to do.

Dr. Seffinger:

What was the approach to the patient who didn't have a musculoskeletal problem?

Dr. Eby:

Depending on his disease. If he had gall stones or acute appendicitis…of course, most of them who would come to our clinic would have some kind of a skeletal, low back problem. I'm surprised that the ones that I used to see most often there simply because word got around and that was rib lesions. That's because CA was just loaded with carpenters and mechanics building houses and they had these kind of drills, you remember, so, what they did would be taught by their boss to put the bottom part of the drill against your 5th rib here. I don't know how many cases I kept out of surgical interference. Luckily they had heard if you go to that osteopathic clinic down there, chances are the doctor will fix you so you won't need surgery. These were all 5th rib lesions and of course lesion number 5 in the thorax is known around the world as the cause of all the rest of the disease that affect the caliber of blood vessels, found that out 60 years ago. So we knew that if we pressed here too much, it threw that rib out of line and you also threw the 5th dorsal out of line which had an affect on the sympathetic nerves that come from the 4th dorsal. We actually saved him from going through a surgery. So, that was one of our stimuli, to get the students to get in there and treat that one.

Dr. Seffinger:

So if people came in with infections, you didn't typically treat them with manipulation, like tonsil infections, or sinusitis or if they came in with pneumonia.

Dr. Eby:

If it was a type of infection that was lymphatically transmitted to an adjoining tissue or something, yes that would be part of the OMT. But you take some infections that you can't get to, take a prostate, most of them that came in with prostate infections were gonorrhea. You can treat that until the sun fell and get no results if you're treating a coccal infection.

Dr. Seffinger:

At that time you could treat with penicillin in the 1940s.

Dr. Eby:

We got the first batch when I went into practice the 1st month in Monterey and the doctor didn't know what to do with them. This will make you laugh, I couldn't believe it, I go and practice up there and the leading doctor that first came in was a MD from Cleveland. He had been a specialist in eyes. During the war, when they'd conscript you, they didn't care what your specialty was. If they needed you as an eye doctor, he came up the back door one day and he said do you know anything about penicillin or, what was the other one for gonorrhea

Dr. Seffinger:

Streptomycin, sulfa?

Dr. Eby:

Sulfa, and I said, "well, I only know when it works it works and when it doesn't it doesn't. I said it's pretty new. "Well," he said, "they got in about thousand pounds of it from Washington DC for our local hospital the day before." He also said, "I never heard of it before and I'm the guy in charge. We got 35 guys in there just leaking with gonorrhea. I gave this penicillin to half the people in my ward." I guess he had 100 all together and he didn't see any particular change yet. I said it was a little too quick. He then asked about the sulfa. He said, "I meant to ask you about that. First this fellow was quite a comedian. I got 37 of them I think up in the ward here. We started this sulfa on them the day before yesterday and they're crazy as a loon. They don't now their names this morning; they didn't know where they should go, where the bathroom was. He said, "they're all just as insane as anybody." I asked how much he gave them. He said, "Nobody told me how much so I gave them about 10 or 20 tablets." I told him I could guarantee a complete recovery if he took it all away from them for four or five days.

David:

So what advice do you have for students today to try and maintain the quality of osteopathy that you…

Dr. Eby:

I don't think that they give a damn except for a few maybe. I never met a student that cared what college that you went to.

Dr. Seffinger:

This is the whole point, you know. Why is it that they don't care now like they did before?

Dr. Eby:

It's all dollars and cents.

Dr. Seffinger:

Well, something happened in 1967 or around that time period. I think when the MDs agreed to have the DOs come to their training programs, which means that when you graduated DO school, you could go and get trained in MD school even though you were a DO. You didn't have to become a MD to go through training in a MD hospital. I think that changed a lot of the culture by the end of the 1970s when this school [COMP] opened up, when they graduated they could go to a MD training program across the country they didn't have to go to a DO program so therefore they really didn't have to hold on to anything osteopathically.

Dr. Eby:

Well, that's probably what I meant to say, that they don't care where they go, it could be the stump of a tree if that's where they'll get their data. That's just my poor assumption, because after struggling as we did in the old days to make osteopathy the goal for good physicians to try to attain. In other words, how could you be a good physician not knowing anything about the framework of the body? How could you be a good physician if you don't know the connection between the head and the hind? They don't care now, if they could make $5000 a day by joining an HMO that's all they're interested in that I've met. I hate to admit it but I think I'm living in the decline of American medicine to the point that I predict by next year some of the bills that are going into congress right now have to do with HMOs and so forth. The regulation of government medicine will be so haphazard and so incapable of doing the job because its all based on how many dollars you get for how many minutes, 3 to 7 minutes are all you're allowed in the average office today to be satisfactory for the HMOs that the government advises. What can you do in 3 to 7 minutes?

Dr. Seffinger:

For a procedure or for a physical about 37 minutes, yes. They're giving you about ten minutes to see a patient for a single problem.

Dr. Eby:

You would know more about it than I do, but every month it gets shorter.

David:

So how would you suggest for students that do care, how do we attain the ideal that…

Dr. Eby:

I think it's way too late when they're already a student.

Dr. Seffinger:

Well you know, take David here, he's finished his first year, he's interested in what osteopathy has to offer. His parents are MDs in San Diego and he chose to become an osteopathic physician. He's looking for where's osteopathy so that's what brought us here. He wants to know what he can do to make sure he graduates as an osteopath.

Dr. Eby:

Well I can't be sure of that at all because I would graduate anybody that's put in the hours and I don't mean to put down President Pumerantz, but he wasn't a DO. He was at best, I put out the word emergency, 'we got to get a President for COMP' was the name and nobody knew anybody with that qualification except the man that has just been appointed the week before by the AOA to direct all osteopathic education to the AOA anywhere and he wasn't a DO, he was a PhD. Well, I said I'll take anything because there's no choice. So, Dr. Frymann she happened to be going to Chicago for a meeting the next day after I saw her I said we got to get a man in here within the week for the city government to give us the grant to have the college…we need all these papers, and she says, "I'll be right there at the AOA office." So, when she came back I called her right away: "what did you find out?" "Oh," she said, "I talked to him; he's certainly qualified. He's already started three major academic colleges on the east coast within the last four months, before that three or four others, so he knows the mechanics, he knows the politics, he knows the hazards." "Everything," she said, "he's a fantastic gentleman and has a family of his own that he wants to protect by not getting into any trouble." I said, "Would you hire him?" She said, "even in the absence of any DO background, I'd have to hire him," she said, "because I think that I can tell him enough [about osteopathy] myself to help." So, that's the way we got him. It was actually a miracle, since he initially told her he wouldn't even consider us because we didn't have any money; in fact we told him point out we haven't got a dime. If we go from day to day we'd buy him stamps. So, that was the answer I got. So, I went home and I said, "Laura, how am I going to get somebody?" The next day he phones. He said, "I had a conference with my family last night." He said, "they know exactly what your offer was." He said, "I know exactly there's one thing I always wanted to do in my life and that is to be the founding president of a college so the board can't tell me what to do." I said, "do you think that's what we are?" He said, "that's what was pointed out by Viola." "Well," I said, "that's about true." "Any money you can make is yours," I said, "because we're doctors; we don't have time to go out and assess everybody that's in our practice." "Well," he said, "that is what I figured, so I'll call you back." Two days later he calls and says, "the family's begging me to go to California." There's three grown children, well you know about it. So I said to Viola, "phone him back quick. Tell him I'm on the other phone and he'll get the money for himself, it's his after all." So, that's the way we got him and when he got out here, he certainly fulfilled all of our immediate expectations. I only had a folding chair and a card table and an empty real estate office in case we ever bought the place.

Dr. Seffinger:

You were saying that there is a problem today for a student to get an osteopathic education. You talked about Dr. Pumerantz as part of that because he's not a DO. How is David here going to get an osteopathic education? What do you think he has to do to obtain that?

Dr. Eby:

Well, he has to find what you call a mentor, I never heard that word. That must be an Eastern word. Yes, find a mentor. There's a few left out here that would certainly qualify that believe in osteopathic manipulation as the non-traumatic non-surgical approach to so many diseases. I'm sure there's several of those left and I wouldn't know which ones to point to cause I haven't been in practice and that's about the only way that I know because these post graduate seminars on osteopathic manipulation are in my opinion only good if Viola's teaching them. No she is next to Dr. Still in my humble opinion the greatest mind I've every met on any continent yet. She's been on all of them teaching there, so she's learned the toughness of teaching people that can't even spell what osteopathy is. I have great respect for that lady, just amazing what she has done in the lifetime in which I've known her.

Dr. Seffinger:

Do you think that osteopathic medicine or osteopathic manipulation should be taught to everybody, or just to doctors. Should everybody be doing osteopathic manipulation?

Dr. Eby:

No, because I don't think you'd ever find that situation where there's everybody that wants to learn it number one, number two can learn it, number three would learn it even if you're paying for the course.

Dr. Seffinger:

What do you think about chiropractors in California?

Dr. Eby:

They are the smartest people in CA when it comes taking and running with it, oh yeah, I predicted this when we were in our fight. I said, "if you DOs don't stick together you will see the chiropractors sticking together." Within 20 days after we got our license back the chiropractors hired our lawyers, to put them into unlimited practice.

Dr. Seffinger:

Hmmm, how come they couldn't get unlimited practice?

Dr. Eby:

Simply didn't have the right lawyer, because they had everything that was needed. There's nothing in the law that says you can't ripple a fellow's muscles. So they gave the chiropractors the biggest launching into victory that any profession that I've ever heard of have and now they're the number one in the US when it comes to manipulation. And they came to our college before it was closed by the state, the original COP&S in LA, where I graduated, the chiropractors hired every DO that would come out of there that would show their students osteopathic procedures.

Dr. Seffinger:

Because it seems like the chiropractors use osteopathic procedures.

Dr. Eby:

Oh, they improved them even. I give them great credit for having used their heads. They're not dumb. In fact, most of the chiropractors that I've met are far superior in their knowledge of manipulative procedures. How to do them and why. But I don't know what answer to give you because that's the only one….

Dr. Seffinger:

Just your own personal answer. Your take on it. Your perception.

Dr. Eby:

Well my mind isn't always accurate.

Dr. Seffinger:

Well that's okay.

Dr. Seffinger:

When patients came to you, did you have to explain what you were, what a DO was, and made you different?

Dr. Eby:

No, never had that happen.

Dr. Seffinger:

They knew that all the time?

Dr. Eby:

Either that or they wouldn't have come up the front driveway you know at least in CA here.

Dr. Seffinger:

Why don't Californians know what a DO or osteopathic physician is now? Did they ever know?

Dr. Eby:

Oh sure, they knew especially during our big fight here.

Dr. Seffinger:

But why don't they now?

Dr. Eby:

Because there's a second generation. What does the 2nd generation know about anything except sex, I mean I laugh about it but it's true. You talk to anybody now that's under 25 as to what medical therapy would be wise if they had a family in view, maybe I'm just too discouraged in that department. But DOs were well known in the day when we had our state association and we had 42 I think it was the same as the MDs, 42 districts I set up some of them and others were already set up before I got here and they all said DO on their window and bank accounts and what not.

Dr. Seffinger:

There was a lot more pride back then.

Dr. Eby:

Yes because the DO was the same as the MD from the standpoint of the public, just the Cadillac or Chevrolet had different tires maybe but it still got you there.

Dr. Seffinger:

Well a DO has the same rights and same abilities as the MD now too but back then there was more unity perhaps.

Dr. Eby:

Well, they don't have to bother with us, they just go ahead and do whatever they want to. It's well done normally because they're practicing good law from the standpoint of their end result. They certainly are the best in certain areas in medical care if you want to get a complicated heart surgery. For instance, it would be the rare DO that's had the opportunity to get to that level of expertise. But when it comes to the things that we should include as general approaches to a physical attack on the whole body, then of course we should be the ones that are there.

Dr. Seffinger:

Great thank you very much Dr. Eby.