M.D.s and D.O.s Today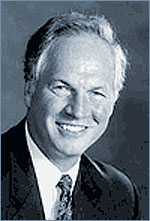 Scott Haldeman, MD, PhD, DC, interviewed by Dr. Michael Seffinger, DO
in his office in Santa Ana, CA
May 9, 2007
Dr. Seffinger:

Dr. Haldeman, please tell us where you were born, your education and training and how you became involved with the 41st Trust Fund Committee members, the DOs, the MD profession as well as the ex-DOs, and also the chiropractic profession when you came to California, especially in the 1970's.

Dr. Haldeman:

Okay. Thank you. I'm Scott Haldeman. I am now in Santa Ana and hold faculty positions at UCI and UCLA. My interest in this field dates right back to my birth. I was born in Regina, Saskatchewan in Canada. My father was a prominent chiropractor in Regina and his mother was also a chiropractor. My grandmother graduated from chiropractic school in Minneapolis. My father was born in the United States, in Minnesota. My grandmother was a nurse but then my grandfather got diabetes and there was no treatment for diabetes at that time. Insulin had not been discovered. And so she went to chiropractic school, after six months got a degree, in 1904. They decided the in-thing was if you have diabetes, you must go to a cold, dry climate. Well, there isn't much colder and drier than Saskatchewan. So the family moved up to Saskatchewan and my grandmother, as far as we can make out, is the first chiropractor to ever practice in Canada. Then my father went to chiropractic school. He came down to the United States to Palmer College and he graduated in 1926. He went back to Canada and he was on the committee or he was instrumental in getting the chiropractic legislation through in Saskatchewan to license chiropractors. Then he was on the first board of Canadian Memorial Chiropractic College. He then decided he would like to go to a warmer climate. So he and my mother and four children, he had his own private airplane and he had a Cadillac at that time, he was a very successful chiropractor. And he put the Cadillac on a boat, took the wings off the airplane himself, put it on the boat and off we went to South Africa. He had never been there, he didn't know anybody there, he only knew what he had read. Gave up his practice and moved to South Africa. Six weeks on the boat, arrived in Cape Town and put the wings back on the airplane, put the four kids in the backseat, I was six years old, and started flying around South Africa to find out where to live. And as he flew over Pretoria, it was in jacaranda season, the entire city is covered in jacaranda trees, and as he flew over in October in Pretoria, he said, that's where I want to live. And landed, and set up practice in Pretoria, developed a very large chiropractic practice. Very successful chiropractic practice in Pretoria where I grew up and I went to elementary school and high school and graduated from Clapham High School in Pretoria. During that period, however, my father was a real adventurer and he used to take the family into the Kalahari Desert, which is now Botswana, to look for the lost city for one month every year. And we bush bash for one month every year where no white man had ever been before looking for the lost city of the Kalahari. And he was South African pistol champion; my mother was South African woman's pistol champion. And he had his own airplane, like we said the solo engine 1948 Bellanca and he flew all around Africa with it, and he flew to Europe once with it, and he's the only person that we're aware of in history that has flown from South Africa, up the coast of Africa, along Asia to Australia, all around Australia, all the way back again with a single engine airplane. As far as we know, it's never been done before since; 33,000 miles. He also went on the roughest motor rally in the world is the Capetown-Algiers motor rally, 8,000 miles, and he and my mother went into a Ford station wagon, and did the Capetown-Algiers motor rally, and tied for first place. So he was a character. And he was a very strong chiropractor and believed in the old time chiropractic thing, if you had stayed healthy, you ate well, you drank well, you don't smoke, you don't drink, you exercise regularly, and you get your chiropractic adjustments periodically, that you'd live a long and happy life. And his statements always that Haldemans never get sick. They may feel under the weather, but they never get sick. So you could have colds and flus, but that's just under the weather. Anyway, when I finished my high school, and he wanted me to go to chiropractic school and to his alma mater which was Davenport, Iowa, the Palmer College. And at that time, you were supposed to have a couple of years of college, not a degree, but you were suppose to have some college. But if you were from a foreign country, all you needed was a letter from the local association saying that if you graduated and came back, you could practice. Now there was no legislation in South Africa at the time, but my father was president of the chiropractic association, so he wrote a letter saying "yeah, he could come back and practice with me." So at eighteen years old, I came to the states. First time away from home, really, in extent. And went to the chiropractic college and spent four academic years there and worked my way through school, because I didn't have much money and the exchange rate was not that beneficial. And graduated, I graduated cum laude there, actually, I graduated valedictorian and while I was there I played rugby, captain of the rugby team, I joined the flying club, was in the cricket club, did all the fun things you do in college. I went back to South Africa, and decided that my father, who was involved in the legislation in South Africa, to try to get chiropractic legislation, was finding that he and the chiropractic association members didn't have the science or the understanding to argue with the medical and scientific community about the benefits of chiropractic. They had the clinical experience, but no scientific background. So he said, "Well, I want you to go back to school." So I went back and did my Bachelor's degree in physics and physiology at the University of Pretoria, and then went on and did my Master's degree in neurophysiology. And for my Master's degree, I decided to study one of the primary premises of chiropractic, which is nerve compression. So we did nerve compression studies, and we did studies on ultra microscopic studies where we published on axoplasmic flow, right around the time when axoplasmic flow was discovered. And so we contributed to that with our trip. At the same time, my high school sweetheart, Joan, who is currently my wife, we went to high school together, we started dating when she was 14 and I was 15, and continued to communicate while I was in the states, came back, and we got married, and had made a good life, we're now in the forty-second year of marriage. So when I was about to finish my master's degree, I thought I'd like to have a PhD, so I applied to a number of universities, was accepted to Heidelberg, Tokyo, and Vancouver. But in Heidelberg, I had to speak German, and there were no grants available, and in Tokyo there was a grant, but I had to speak Japanese, and in Vancouver, it was home, basically. I managed to get a scholarship from the South African Medical Council to my PhD under Hugh McLennon in Vancouver University of British Columbia. So I went to the University of British Columbia, did a true PhD degree in neurophysiology on synaptic transmission, basically became a synaptologist. And managed to complete that within two and a half years. When I was in my last year of PhD is when a lot of the battles were going on between chiropractic and medicine, and I was starting to be part of that and the most important issue was going to be a liaison between chiropractic and medicine, and that the two were not going to join very quickly, and that it was very important that there be some liaison and so I decided to go into medical school at British Columbia, got accepted, went through the medical training, and that's when I got involved with the NIH conference, which we can talk about in a bit. And on completion of my medical degree, I did a year's internship in general medicine or family practice, and then decided I wanted to specialize in neurology. And it's a logical choice, because I had a PhD in neurophysiology. And I had a number of offers, one from Albert Einstein, New York, Professor Kirkaldy-Willis in Saskatchewan wanted me to come there and be an orthopedic surgeon. And then I got an invitation to come down to Irvine. And I believe the invitation came from Dr. Tobis, but the person who organized it was Dr. Buerger. And this would be '76, I came down here in July '77, so it must have been in '76 that I was invited down here, they invited my wife and I, Joan and I both, to come down, give a lecture, and then I met Professor Van den Noort, and Professor Tobis. And they debated on what they thought I should do, and Dr. Tobis wanted me to go into physical medicine, and Dr. Van den Noort wanted me to go into neurology, and since I had the neurology background, I decided to do neurology. I got accepted as a resident, and so after I finished my internship, got my immigration status squared away, moved here to Irvine and spent three years in the neurology program at UC Irvine. On completion of the neurology program at UC Irvine, I still wanted to be actively involved in research, and I was offered a position at Long Beach Veteran's Hospital to do a fellowship in electro diagnosis under Bill Johnson. And Bill Johnson was probably the world authority on the neurophysiology of bowel bladder sexual disturbances. And he had been given the senior position, the chief position at the hospital in neurology. So I joined him for a year, completed my board examinations in neurology, completed my examinations in Canada, became a fellow of the Royal College of Physicians in Canada. Then completed the electro diagnostic training in both EEG and EMG, and wrote the examinations for the electrophysiology, both the EMG boards and the electro encephalogram boards. I did a series of research projects with Bill Johnson over a period of about 5 years on bowel bladder sexual disturbances, published around 20 papers on this, started traveling extensively and lecturing, and at that time I was still active with the 41st Trust Fund Committee, but we'll get into that more later. I gradually moved into private practice in Santa Ana, had a practice in Lakewood for a number of years, was on faculty at UC Irvine in the neurology department, and more recently have gotten a faculty position at UCLA. And for the first 15 years of my practice here, I did a lot of manipulation on referral from others, other medical physicians, and I gradually became more and more of a consultant, got more and more active in research and lecturing, and here I am today.

Dr. Seffinger:

Okay and when did you first come in contact with the Osteopathic profession?

Dr. Haldeman:

The first time I really met the osteopaths was in the early seventies, when I entered medical school. When the NIH and NINCDS meeting, I think it was '73, I was invited to participate and be on the committee of the National Institution of Neurologic and Communicative Diseases and Stroke. My understanding was that the federal government, the congress, had appropriated for political reasons wanted 2 million dollars to study chiropractic, and they had given this job to the NIH. And the NINCDS formed this committee under Murray Goldstein, who was chair of the committee, and decided that the most appropriate way of looking at this type of any new subject was to hold a conference and discuss what the state of the art was.

Dr. Seffinger:

Who was Murray Goldstein?

Dr. Haldeman:

Murray Goldstein was, I'm not exactly sure what his position was, he was the senior and he may have been chief of the National Institution of Neurological Diseases and Stroke. His title was director extra mural activities program National Institution of Neurological Diseases and Stroke. So he was one of the senior people in NINCDS.

Dr. Seffinger:

He was a DO?

Dr. Haldeman:

He was a DO. He was also in the military. I think he was an Admiral in the military as well. But he had a DO degree, he had a lot of interest, and I guess that's why they gave him this task. He was absolutely excellent in how he handled it; he brought together a small committee, but a large conference. And he chaired the conference and came out with a publication.

Dr. Seffinger:

How did you get involved with being invited to be part of the 1975 NIH conference on The Research Status of Spinal Manipulative Therapy; you were in Canada?

Dr. Haldeman:

I was in Canada at the time, but as far as I know, I was the only chiropractor who had a PhD in the basic sciences.

Dr. Seffinger:

In your country?

Dr. Haldeman:

At least in North America, but I think in the world at that time. At least I'm not aware of somebody else. There were a couple of PhDs in theology and exercise physiology, but I'm not aware of any PhD in the basic sciences before I got my degree. So I was invited to participate on the assumption that I would bring something different than the average practitioner to the meeting, and was able to nominate a significant number of the participants of the meeting. At the same time, even though I was a medical student, there was a committee at the Vancouver General Hospital to look at spinal disorders, and I was invited to participate in that committee and help organize conferences on back pain, and I had invited people like Alf Nachemson and Professor Kirkaldy-Willis to that meeting and got to know them. A little later than this, when I graduated from medical school, I was invited into the North American Academy of Manipulative Medicine. I guess the first osteopath I got to know intimately was Philip Greenman, who remains a very close friend. And we've interacted on committees for thirty years. And I met him at the NINCDS meeting; he was on the committee as well, so we interacted fairly closely on this particular committee, got to be good friends. Then when I joined the North American Academy of Manipulative Medicine (NAAMM), I decided that it was one of my goals to bring osteopaths, and actually, I wanted to bring everybody, into the academy.

Dr. Seffinger:

You were the first person that had a chiropractic background that got into that organization. The NAAMM organization started somewhere in the fifties, was it?

Dr. Haldeman:

Yes. John Mennell (MD) and Janet Travell (MD) started it, and John Bourdillon (MD) and a few other people joined it, and they formed this nucleus of medical physicians who practiced manipulation.

Dr. Seffinger:

Janet Travell came from Long Beach VA Hospital?

Dr. Haldeman:

That's correct, as far as I know, and she was very much into trigger point therapies and manuals and other forms of trigger point therapies. And they were the fathers and mothers of the medical manipulation in North America. And so when I was invited to participate, I said, you know, we need to expand. And John Mennell, who I think was good friends with Phil Greenman as well, gave a lot of support to this concept, and when I became president of the North American Academy of Manipulative Medicine, we pushed very hard. I think I was on the board, I think I had already gotten this passed, and I'm not sure the sequence of dates. It was either passed when I was president, or it passed while I was on the board, or vice president, or before that. And we invited Phil Greenman and a number of other osteopathic physicians into this society, and they came and contributed really substantially, and were major contributors to the success of the society. They taught at all the meetings. And then Phil Greenman eventually became president of the Manipulation Academy. So that's where I became very close friends. Then when I came down to Irvine, I was then intimately involved in the manipulation clinical trial here, as a matter of fact, I was actually asked to be, I was told the reason I was brought down here was to be a liaison between the scientific medical community and the osteopathic community, and I got to know Dr. Grunigen very well, and the osteopathic practitioners who participated in the double blind controlled clinical trial.

Dr. Seffinger:

So this was starting to formulate somewhere around 1977 or so, is that when that clinical trial was put together?

Dr. Haldeman:

It was starting I think at '76 when I was invited down to participate, I think that was when people were being brought on board and I was being brought in as part of that initial team. And then in '77 when I came down, we got the trial started, and if I have recalled correctly it had not really gotten going before '77, before I arrived, but they had done some of the initial research on validity and what they really wanted and outcomes and things like that.

Dr. Seffinger:

And just to back-up just one second. This national Research Status in Spinal Manipulative Therapy conference that was through the NIH, basically through the government, did that have any impact at all on research in manipulation in America, if you could tell, and did it have any impact on what you then did which further came to use?

Dr. Haldeman:

It had a huge impact on research and manipulation. And the primary reason is the statement after all the, everybody who was anybody in manipulation, including meant Dr. Mennell, Dr. Cyriax and others, the conclusion that Murray Goldstein came to was that, and this was to quote from him, "analysis of the viable data clearly indicate that specific conclusions cannot be derived from the scientific literature for or against either the efficacy of spinal manipulative therapy, or the pathophysiologic foundations from which it is derived." So basically, the conclusion was, any argument would have either for or against manipulation was based on opinion, and there was really nothing beyond opinion and clinical experience to base any statements. This was a wake-up call, a serious wake-up call to the chiropractors; it was actually a wake-up call to all practitioners of manipulation. The chiropractors took this very, very seriously, because, in my mind, the osteopathic profession has another option, and that is becoming medical physicians. Chiropractors had no other option, if they gave up manipulation, they cease to exist, at that time at least. So they immediately started creating grants to send chiropractors to universities to study for PhD degrees, any number of different advanced degrees, started requiring all chiropractic colleges to have a research department, some more active than others of course. They started putting research grants together, and started inviting scientists and researchers and people from different disciplines to many of the major chiropractic meetings, so they could get a feel for the interdisciplinary and scientific background or the principles of it, because they had a lot of discussions on the principles, some in private.

Dr. Seffinger:

How was that related to the 41st Trust mission and relate it to this type of disciplinary approach to looking at the subject and research basis of manipulation?

Dr. Haldeman:

Well at that time, there was virtually no research to speak of in 1975, and I don't have a good feel for the insides of the 41st Trust. But what was very clear to me when I came down here is that this was going to be one of the islands of scientific study into manipulation in the world. And there were here and there isolated islands where single groups or single individuals were starting to look at the signs. And this particular study under Dr. Tobis and Dr. Buerger and Dr. Hoeller And with the support of the 41st trust was the first attempt at a randomized controlled clinical trial, and especially a double-blinded randomized controlled clinical trial. This particular trial had a number of components which were unique, they looked at us and tried to standardize outcomes, something which is not very well done in all spine literature, they blinded the observers very well, they tried to blind the patients by means of taking naive patients and asking a questionnaire afterwards. And they tried to standardize the treatment approach, they had the different osteopathic physicians who were the treating physicians, to try to come to some agreement to what they were going to do, both for the sham manipulation and the real manipulation. When this was published it started the process of recognition in manipulation. It said very simply, "look, the results are not fantastic, not dramatic, but something is happening here. Something beyond the natural course of the disorder of low back pain." That there was some impact, that the impact was measurable, that it was possible to do randomized trials, in the old vernacular you could not do a randomized trial on something as hands-on as manipulation and this showed it was possible. And subsequent to that time, a number of randomized control clinical trials had been performed, some better and some not as good, in countries around the world, by medical physicians, by physiotherapists, by chiropractors, by osteopathic physicians. And this was all added to the knowledge. But I think this is where it started; I think this is where the decision to do randomized clinical trials as an investigative procedure, to look at the effectiveness of manipulation, really started. I found I started using this in my lectures immediately that we had results, I could report on those results. And it was always very impressive; the criticism was not very strong. The 41st trust continued to fund research, and when I finished my residency and got involved with Dr. Starr, and then with Dr. Zhu, we began doing a further research into manipulation and electrophysiology (I did a fellowship in these methods, as I mentioned earlier) using somato-sensory evoked potentials. So what we looked at then was cortical evoked potentials and stimulation of paraspinal muscles. Muscle evoked, cortical potentials, something that had never been done before. And Dr. Zhu was the primary research on this, I was the individual who was thinking out some of these projects, and Dr. Starr was the senior investigator and kept us all honest. And with this trust, we received a grant to go to China, and to do a research project in China, which was very interesting. It was three months, and we got a Chinese-speaking chiropractor, Dr. Hsieh, to come over and become the clinician. Dr. Zhu set it up at the hospital, I can't recall the exact name of the hospital, it would probably be in the publication, in Shanghai. And I went over for I think, 3 or 4 weeks, and Dr. Starr came over for a week, and we ran a series of patients, showing that osteopathic manipulation changed cortical evoked potentials.

Dr. Seffinger:

That was a chiropractic manipulation.

Dr. Haldeman:

That's right, but he was using osteopathic manipulation procedures.

Dr. Seffinger:

We had previous to that a small pilot here, where I was asked to participate.

Dr. Haldeman:

That's right, you did the first trial here, that's right.

Dr. Seffinger:

They asked me to go to China with them, but I was finishing my residency here at UC Irvine. And so they got Dr. Hsieh to go.

Dr. Haldeman:

That's where you and I met for the first time, is when you were doing a residency here and you were the practicing osteopath for the initial study.

Dr. Seffinger:

Right, I worked with Dr. Zhu for a couple of years.

Dr. Haldeman:

Right. And that was a unique study that has again shown that it's possible to measure objectively changes in the spine, the spinal tissues, following manipulation. And that has been part of a growing body of basic science literature.

Dr. Seffinger:

We did show that there was a measurable change on the cortical area. What I did was a muscle energy technique to change the muscle tone directly, an isometric stretch relaxation technique, rather than HVLA thrust, which I thought was not exactly what you were measuring. You weren't measuring mobility, or a pop of a joint or any kind of motion in the joint, you were measuring muscle tone. So I applied the muscle energy techniques, and that showed a difference. And so maybe that's what Dr. Hsieh did in China, I don't know.

Dr. Haldeman:

I can't recall, again, it might be in the paper. I can't recall the exact technique. But the end point is that these grants made a huge impact, because we were starting to study biologic mechanisms, not just clinical outcomes, even though the biological mechanisms are in patients, it was a measurable biological change. That has subsequently led, and I wouldn't say that by itself, as more and more PhDs in basic sciences have graduated, mostly chiropractors and some osteopathic physicians as well, this has expanded our whole theory and concepts of manipulation. I also, when I got involved with the North American Spine Society, insisted that osteopathic physicians be part of that, and I wouldn't say I was instrumental in that any more than anyone else, but I was a strong push for inter-professional or multi-disciplinary membership.

Dr. Seffinger:

How does the North American Spine Society differ from the North American Academy of Manipulative Medicine?

Dr. Haldeman:

The North American Spine Society is an off-shoot of the International Society of the Study of Lumbar Spine. The International Society of the Study of the Lumbar Spine, ISSLS, is the first true spine society in history. And it was a pure scientific society. The entire meeting from the early seventies to the present is scientific papers and the presentation of scientific papers. There is no educational component beyond educating the science. And it has a limited membership. It was only two hundred fifty members. You have to be publishing active scientific papers in order to be a member. You can't go to the meetings unless, you are either a member or if you are not a member, you have a paper to present and if you're a member and you don't present a paper for five years, you cease to be a member. So it's a very strong academic society. The North American Spine Specialists, mostly the spine surgeon decided that it was very important to create educational meeting as well as a scientific meeting in North America. And so, in the early '80's brought together a group, of which, I was one member, Art White (MD), who I just found out was a graduate from the old osteopathic college (COP&S) before it became UC Irvine College of Medicine, was another of the initial members of the society, and developed the North American Spine Society. The history is a little convoluted, but we don't have to get into that. This was a society that held a meeting every year; it's now up to three, four, five thousand people every meeting. A large number of them are orthopedic surgeons, but there are osteopaths, chiropractors, and everybody else is involved as well, in the North American Spine Society. And because of its multidisciplinary roots, which I always attribute to Dr. Kirkaldy-Willis and with the support of Leon Wiltse, with their support, I became the first non-surgical president of the North American Spine Society, and pushed this interdisciplinary protocol.

Dr. Seffinger:

It seems everywhere that you have gone it has been interdisciplinary, interdisciplinary, interdisciplinary. Each organization you're involved in.

Dr. Haldeman:

That's been my motivation from when I went to medical school, I mean that's why I went to medical school so its become a bit of a mantra since that time. My other involvement with the osteopathic world, was a lot of it through Phil Greenman. I started teaching a little with Phil Greenman at various meetings, I think I put a chapter in one of his books, I think. Or at least we wrote in similar books. And eventually I became a Walter Patenge fellow at Michigan State University College of Osteopathic Medicine. And I was invited and I was given, not the chair, but the fellowship award at Michigan State. The other interaction has been through the societies. Through the American Back Society which has a very strong osteopathic presence. Aubrey Swartz (MD) I heard today, was also a [COP&S] graduate. Aubrey and I met again right at the very beginning in the early 1980's when he first started the American Back Society. He made this an interdisciplinary group which, of course, created a home for me to some extent. And I've been a member and am currently President of the American Back Society and Aubrey has made it his dream to have this inter-professional society and he has managed to do so where he has osteopathic physicians teaching at every meeting, chiropractics teaching at every meeting, surgeons at every meeting, physiotherapists at every meeting and so on. And it's been a wide open society. Probably the one meeting that has the widest scope of presentations of any meeting in the world.

Dr. Seffinger:

So, you're involved mostly with the osteopathic profession that does research, even the clinicians that are involved with research?

Dr. Haldeman:

Yes. Yes.

Dr. Seffinger:

When you first came to California, to UC Irvine, you were a resident and you first were able to see the culture at this school where you had some DOs, I think, some ex-DOs, some MDs, you had some different types of people, and you were able to see for the first time, the nature of California. You probably didn't realize that UC Irvine had been an osteopathic college in the past. A lot of people that were promoting research in manipulation, used to be osteopathic physicians, or D.O.s, and were at that time M.D.s. What was your first impression at that time and did that change over time about the osteopathic profession in this state. Because you came at a time when a licensing board just received its ability to license new DOs again, in 1974, and the Osteopathic school of Pomona just started up again in 1977. So you came at a time when a lot of things had just been changing.

Dr. Haldeman:

Yeah. At that time I found the osteopathic profession in this flux, couldn't make up its mind, what it wanted to do and what it wanted to be. I was a little isolated from the main profession because the group I was working with at UCI, was very dedicated. Dr. Grunigen was fully committed to doing research for advancing manipulation, to studying the science, to encouraging participation in manipulation. So he was fully committed to this and his personality was so strong, that the people he brought around him, were also fully committed. And this fit with what I wanted to do because I wanted to do studies into manipulation and I didn't care who was doing manipulation as long as it was hands-on, spine type of treatment. And so I found it was a very good home for me. But I didn't really get the opportunity to interact with the larger profession. I wasn't really invited to participate in the larger profession. And so a lot of my time outside of UCI was in the chiropractic world because that was where I was being invited to participate and play an active role.

Dr. Seffinger:

Was that also in flux, in that time period, the 1970's, in California?

Dr. Haldeman:

Well, it's always in flux in California. California never ceases to be in flux. But at that time, the chiropractors were very worried that, when the osteopaths were going into medicine, that the chiropractors were splitting into two groups as well. One group which was traditional chiropractic, philosophical approach, wellness, whatever words you want to put into it. And the other was a group of chiropractors who thought they should expand into other areas of therapy including the physical therapy, even some medication. And there was even some talk of going the route of osteopathy although I don't think that ever became serious. But there was a lot of acrimony over what direction chiropractors should go. But they were never invited like osteopaths were into the medical community. And it was still unethical to interact with chiropractors.

Dr. Seffinger:

That must have been very strange for you because you came over as an MD and you would naturally, having been in the chiropractic profession, wanted to interact with the chiropractors here and then you were being told by some people, not to do that.

Dr. Haldeman:

Yeah. I got called into one of the senior people at UCI and was told that they disagreed, that there had been some serious complaints about what I did. That I was interacting with the chiropractors that had come down and there was a feeling that chiropractors ought to be wiped from the face of the earth. And that was one particular statement which I found fairly amusing. But apart from that, I was actually well tolerated here. I found almost no animosity. I found tremendous freedom to do what I wanted to do. Because I was very active in a number of different groups, I was flying off to Australia, flying off to New Zealand to testify at government commissions. And I was lecturing all around the place. Dr. Van Den Noort and Dr. Tobis were very tolerant of what I was doing as long as I did my duties as a resident and so I found the environment very friendly.

Dr. Seffinger:

And then you put together a landmark textbook in about that time.

Dr. Haldeman:

In about 1978, I felt again that the interdisciplinary thing was, there should be a major interdisciplinary chiropractic meeting and so I went to the international chiropractic association and said, "why don't we organize an interdisciplinary conference in California that would bring in people from different professions and see if we can establish inter-professional relationships. And we organized the conference in '79, some sixteen odd speakers, a number of them medical physicians, scientists of note, a number of them chiropractors and asked them each to write their lectures out in a scientific format for a textbook, textbook format. And this was published by Appleton-Century-Croft as the first publication in chiropractic, ever published by a major medical publishing house.

Dr. Seffinger:

So it was the proceedings of a conference?

Dr. Haldeman:

In sense, it was a proceedings of a conference.

Dr. Seffinger:

What was it called?

Dr. Haldeman:

Modern Developments in the Principles and Practice of Chiropractic.

Dr. Seffinger:

And this basically moved the chiropractic profession toward the research base, the scientific base? More so than previous.

Dr. Haldeman:

Yes. It was the next step of pushing for interdisciplinary scientific thought process. That particular meeting drew five hundred chiropractors so it was a large and very successful meeting. At the same time, or shortly after that, Dr. Van Den Noort asked me to organize two conferences on manipulation under the Department of Neurology. I don't have the dates, but I was still very active there and we had two major conferences, invited a number of osteopathic physicians, a few chiropractors, a number of medical physicians to actually give a teaching course on manipulation. That was at the direct request and suggestion of Dr. Van Den Noort as continuing education courses. And I'm not sure, but my guess is they're the only two manipulation continuing education courses that have been given at UC Irvine.

Dr. Seffinger:

And they didn't continue after that?

Dr. Haldeman:

They didn't continue after that. We only had the two of them and the second one was actually not very well attended and I don't think it broke even and that's the death of any course.

Dr. Seffinger:

Was this mainly for MDs?

Dr. Haldeman:

It was mainly for MDs and DOs. The chiropractors were not invited at that time. Although some of the chiropractor scientists were speakers, I believe, the chiropractors were not invited. It was mostly MDs. Dr. Vandennoort had the feeling that medical and osteopathic physicians should become competent and knowledgeable in spinal manipulation and so he arranged these two courses and I chaired them.

Dr. Seffinger:

Thereafter, you became involved with creating further conferences and developing some guidelines for practice as well.

Dr. Haldeman:

Yes. In 1988, when I was president of the North American Spine Society, I got very interested in evidence-based guidelines. It was an "in" thing to start doing and we formed a committee where we didn't do very much but held a couple of meetings, wrote a couple of silly paragraphs, I think. But it became very evident to me that this was a time when HMOs were starting and we started realizing that we were going to have managed care. And the only way you could manage care was to have some basis for managing it. So I proposed to the chiropractic profession a conference to establish guidelines for chiropractic quality assurance and got a buy in from most of the chiropractic associations to have a task force to do practice parameters and it took about two years and over about a two year period with multiple revisions we had a major retreat with about 40 people at the Mercy Center in San Francisco, which is why its called the Mercy Conference. It's the Mercy Conference Center. Over this period of two years, culminating in this consensus conference, we were able to produce a very detailed analysis of all the literature on manipulation and chiropractic care as well as where there was no literature, a consensus on how it should be practiced. I was then invited by Stan Bigos to be on the National HCPR guidelines committee for acute low back pain. And it's an Agency for Health Care Policy and Research which was establishing guidelines in a variety of medical fields. I think they had fifty or sixty different guideline publications, meetings of this kind. This took a year, year and a half. And we had a number of meetings in Bethesda, in Washington and eventually came out with the guidelines for low back pain. That was the first national interdisciplinary guidelines for low back pain. Subsequent to that, vitually all guidelines around the world have adopted with very small variations, the principles laid down by those guidelines. Eleven different countries have developed guidelines which don't differ more than a very, slightly from the HCPR guidelines.

Dr. Seffinger:

Now let me clarify a little bit. The guideline is a governmental statement. Right?

Dr. Haldeman:

Right.

Dr. Seffinger:

It's a policy statement of how people in that country should be treated with a particular condition.

Dr. Haldeman:

Well, it's not a policy statement, it's a guideline. Guidelines are what they are. They're guidelines. Guidance. They say, "This is what the scientific literature says. This is what a consensus of knowledgeable clinicians feel is a reasonable way to manage each of these conditions and this should be taken into account by clinicians who want to treat this condition." Now the problem with guidelines is that there's never absolute information on which to base it on. The science is [such that] you've got a few things that you can say something strong about but a lot of the aspects of diagnosis and treatments still have not been fully investigated. So, there are various categories of evidence. Some are strong, some are moderate, some are weak, some are definite, some are negative, and HCPR had this system where by they set up categories of evidence which has been widely used around the world. Now, what can happen is, different groups, like insurance companies can then adopt that and say "Okay. We accept this and we are going to pay for or accept treatments that follow this pattern." So there has been a big discussion around the world, how guidelines should be used and every society and every agency adapts different components or applies then strictly or less strictly. But guidelines are basically the way the world is going.

Dr. Seffinger:

What did the Mercy conference and then subsequently the HCPR say about manipulation for back pain?

Dr. Haldeman:

Well, when we brought the Mercy Conference proceedings to the HCPR, it became evident that here was a group of people who had looked at the evidence, who had formed a consensus and had reached a conclusion which was not contrary to the evidence of the HCPR panel and which could not be ignored. And so they, if you look at the HCPR, they basically made manipulation one of the options in the management of low back pain and even low back pain with some radicular findings although that is less strong. And it put manipulation on the map. It was the first time when any government agency had said, it's okay to practice manipulation. There's some evidence to support it and it's reasonable to practice manipulation for patients with low back pain.

Dr. Seffinger:

How many people were on that HCPR panel?

Dr. Haldeman:

I recall twenty-two of us, and I don't think any specialty had more than two people.

Dr. Seffinger:

And so how did that change the osteopathic profession and the chiropractic profession and the allopathic profession, how did that affect these professions? The one's who did manipulation within those professions?

Dr. Haldeman:

Well, around the same time, the AMA changed its regulations where it became ethical for medical physicians and chiropractors to interact and this was very crucial. Actually, it was in the 80's. The chiropractors sued the AMA for restraint of trade.

Dr. Seffinger:

That's right. There was a lawsuit in Chicago.

Dr. Haldeman:

Yes, in Chicago for a restraint of trade. And the lawsuit went against the AMA as a conspiracy to restraint trade. And the AMA was required to pay legal expenses and also to publish something in JAMA saying it was okay for medical physicians and chiropractors to interact.

Dr. Seffinger:

What was the name of that trial?

Dr. Haldeman:

The Wilke trial. And so that changed a lot of the atmosphere as well. And then when HCPR came out and said there is some scientific basis or clinical reasonableness to practice manipulation all of a sudden the major spine centers around the country started looking at this, so we had this explosion of research. There were randomized controlled clinical trials happening everywhere. So today we have at least as many randomized controlled clinical trials of manipulation for spinal problems as we do for any other treatment approach. So its been one of the most intensely studied fields of spine care.

Dr. Seffinger:

Do you consider that to be one of your main successes in your career?

Dr. Haldeman:

Well, I think it would be an exaggeration. I don't think it's a personal accomplishment, I think there have been so many people who have done these trials and contributed to these trials. I think it's a natural evolution of the multidisciplinary or interdisciplinary process that I worked very hard for. But these randomized trials have been done in Australia, and South Africa and Europe, by people, many of whom I know, but many of them I don't know very well. And from physiotherapy, and chiropractic, and osteopathic, and medical disciplines. And so it was more a realization that this is worth looking at, than to consider it any one person's accomplishment.

Dr. Seffinger:

So you think that the professions, they did come together, all these various professions came together politically because of some lawsuits and various things like that but also there seemed to be some unification through research and science and knowledge?

Dr. Haldeman:

I don't think the lawsuit... All they did, the lawsuits opened the door; I don't think anybody walked through the door. Everybody was very suspicious of everybody else. The medical community had done this against their will, they had been forced into this role, the distrust in the chiropractic community and the osteopathic community towards medicine was huge. They just didn't believe it even though that this was going to be an issue and there was always some paranoia that somehow medicine now was going to consume chiropractic and osteopathy and things like this.

Dr. Seffinger:

Letting them in?

Dr. Haldeman:

Letting them in and so on. It created a lot of discussion, a lot of debate. But as the science progressed, it became very obvious to people who were looking at it objectively, that there was a role for practicing manipulation in the management of people with spinal disorders which was not a threat to the mainline specialists. So we started seeing the incorporation of chiropractics and osteopathic physicians who practiced manipulation into many of the spine centers around the country.

Dr. Seffinger:

St. Mary's Spine Center.

Dr. Haldeman:

St. Mary's in San Francisco, California, the Texas Spine Institute in Austin, Texas and other centers around the country. I think the science broke down the barriers; just the opportunity broke down the barriers, and to do the science which came out of the political process.

Dr. Seffinger:

The differences that everybody harbored was largely due to probably ignorance?

Dr. Haldeman:

Yeah, I think it was... none of us had much knowledge based on science. So everybody had very strong opinions. Nobody had talked to each other for fifty years and everybody's speaking a different language. And the language of science is kind of universal and as people started interacting scientifically at various meetings, for example, the North American Spine Society has had a couple of symposia on manipulation where both medical and chiropractic and other groups have been speakers and has had special interest groups in manipulation. They've communicated at the American Back Society, virtually every chiropractic science meeting has medical physicians and sometimes osteopaths, physiotherapists are present. So as the knowledge increased, now understanding increased, so did the communication. And I attribute this to the focus on science above politics.

Dr. Seffinger:

So there's still, even today though, you see some people that accept truth based on science and some people that still are more dogmatic and stick with their old traditions?

Dr. Haldeman:

Yes, there's no question and this is true of every professional group. I've seen some of the most dogmatic people I know are surgeons. But on the other hand, there are a number of old time chiropractors who have not kept up to date, old time osteopaths who have not kept up to date who are still clinging to what they learned twenty, thirty years ago. And the difficulty with science is that it is not a standing target, it's a constantly moving target and its hard work. And so any clinician, who wants practice up to date, has to be very active in studying and in a busy clinical practice that's sometimes not possible. And I think a number of these people who practice manipulation, have not felt it's a high priority and they've not felt they had the time or the training to stay up to date with some of the latest literature and so they maintain many of their old ideas.

Dr. Seffinger:

Is that one of the impetus for you to start the Spine Journal?

Dr. Haldeman:

Well, the Spine Journal came out of the North American Spine Society. The North American Spine Society decided it should have its own mouthpiece in scientific journals. Spine, which is the high impact, oldest spine journal that is expensive, it's got a high rejection rate, it's very selective.

Dr. Seffinger:

That one is edited by a DO, right?

Dr. Haldeman:

Yes, by Jim Weinstein. I've been on the editorial board of that from the very beginning, as an Associate Editor. It's expensive, it comes out every two weeks, it's difficult to keep up with and so the North American Spine Society said they need their own mouthpiece and there was room for another scientific journal and so I was invited as a deputy editor to establish the Spine Journal under the editorship of Tom Meyer, he assumed the Editor in Chief position. And five of us were section editors. I took the section editing of the non-surgical articles.

Dr. Seffinger:

So your articles were for the science of manipulation or other types of approaches?

Dr. Haldeman:

They are still scientific although we also do systematic review papers. For example, right now I'm editing an entire supplement which will have twenty review papers of different treatments for chronic low back pain. Now these are mostly opinion pieces and narrative reviews as opposed to systematic reviews, although some of them are systematic reviews, but we'll come up with a document which will give some state of the art.

Dr. Seffinger:

You have participated or overseen or reviewed many randomized clinical trials yourself, in fact, in neck pain. And at this point, I think you have another idea of where the field should go from here forward which is your involvement in the Bone and Joint Decade.

Dr. Haldeman:

Yes. In 1995 the Quebec task force came out on whiplash associated disorders, presented its findings. This was another landmark because it said that manipulation was reasonable to consider. This was the first time that neck pain had been considered reasonable by any official agency anywhere. And the Quebec guidelines were the first major guidelines on whiplash. But the Quebec guidelines said there had to be another guideline in five or ten years because the science would change. And so in 1999 to 2000, a group of us got together, myself and David Cassidy and Linda Carroll and a few others and proposed the establishment of a task force on neck pain, an international task force was on neck pain. And in 2002, we received the right to call ourselves the Bone and Joint Decade Task Force on neck pain. Now the Bone and Joint Decade is an initiative of the United Nations in the World Health Organization, has its steering committee in Lund, Sweden and it is established to focus attention on disorders of bone and joint so having a neck pain task force was a logical component of this. And we've now gone six years, spent almost three million dollars and we'll be publishing our task force results in the journal Spine later this year.

Dr. Seffinger:

Was this an outgrowth of, there was a world federation of...

Dr. Haldeman:

Well, I won't say it was an outgrowth. This was a proposal. Now the World Federation of Chiropractic is now an international organization with membership from eighty-five different countries. Membership associations. It's an association of associations and it has associated members from eighty-five countries. It's been around since 1988. When we first suggested that we have another task force on neck pain in 1999 to 2000, we went to various groups and said "can we get some support?" And the World Federation of Chiropractic was the first group who offered support. Not financial support, but moral support and went to bat with us with different organizations, potential funding organizations. And then the American Back Society fell in line and did the same thing and the Arthritis Foundation and eventually the North American Spine Society and the European Spine Society and the American Physiotherapy Society and American Physiotherapy Association and International Rheumatology group and so on. So a number of sponsoring organizations came into being. But it was the World Federation of Chiropractic who were our first supporting group. And this particular task force is looking at all aspects of neck pain, in the general population, occupational neck pain, post car accident neck pain.

Dr. Seffinger:

I think you also were involved with one of the first randomized clinical trials on neck pain that has been carried out through a medical institution at UCLA in the 1990's?

Dr. Haldeman:

Actually, it's later than that. It was just a few years ago, six, seven years ago; I guess that's getting close to the 1990's. Anyway, UCLA had a young chiropractic PhD by the name of Eric Hurwitz who had established his clinical bonifiedies by doing a low back randomized controlled clinical trial. And he had proposed and got funding for a neck pain clinical trial and his senior supervisor was Hal Morgenstern, but they were having trouble because they couldn't get it through ethics approval. So they asked me to serve as chairman of their research committee. So I wasn't an active researcher I was just chairman of their research committee. The problem was the neurologist at UCLA basically said, "This is too dangerous a procedure because some people get strokes while in manipulation. What will happen?" and I basically said "Look, there's probably a hundred million cervical manipulations being given right now in North America at huge cost. We don't know its effectiveness. It's unethical not to study it." I made a very strong appeal, saying, "Although the risk is not zero, the risk is extraordinarily small, because I had studied this risk for a number of years. Extraordinarily small, highly unlikely to occur, but not zero. But the ethics of doing the study far outweigh the ethics of not doing the study." And eventually they came through and the ethics board approved it and then the study went forward and I helped supervise from the committee point of view and it's been published recently.

Dr. Seffinger:

So then put that in context then it's only been a few years since you've been involved with that. Now this current review of the world literature on neck pain, is that focused on manipulation or any type of treatment?

Dr. Haldeman:

This is focused on all aspects of neck pain including the incidence of neck pain, the epidemiology, the prognosis, the natural course, the assessment, all assessments including MRI scans, injections, palpation, some EMGs. The non-surgical treatments which includes everything from exercise to counseling to manipulation to massage to acupuncture. And the surgical components including fusion, arthoplasty and facet ablations and so on. And then it goes forth and establishes a new conceptual model for neck pain and describes the implications, the clinical, scientific research and policy implications of this research.

Dr. Seffinger:

How many articles did you review for this?

Dr. Haldeman:

Well, we had reviewed thirty-three thousand abstracts and then found about twelve hundred that fit our inclusion criteria. We'd spend anywhere from three to one hundred hours on each paper. Altogether, the group probably spent in excess of twenty-two thousand hours, person-hours, on this task force. And then we have accepted five hundred plus papers, five hundred eight I think, something like that, and then did a best evidence synthesis of all this material and are presenting our results.

Dr. Seffinger:

I want you to go back a little bit with your interactions with the international leaders in research and manipulation. Now, of course, you're overseeing their literature, a lot of literature that came out, but you had some interactions with some of the prime leaders back in the 1980's in Europe and you had an international retreat with some prominent leaders. Can you talk about that a little bit?

Dr. Haldeman:

Yes. I've been very fortunate, I've met many and interacted with many international people including osteopaths, physiotherapists, medical practitioners who use manipulation and spine specialists of a number of persuasions. This particular meeting was in Switzerland, was in a monastery, small town, outside in the countryside, sure it's in the text, in the book we published. I think it was eight of us or maybe six of us were invited to this retreat for one week and it was made up of an osteopathic physician, which was Phil Greenman, myself with a chiropractic background, John Mennell, he was MD in manipulation, there was a German MD, I can't remember his name right now, Dr. Janda was there from Czechoslovakia and another very prominent practitioner and senior person who had been teaching manipulation for years. And Yuri Dvorac was the chairman of the group. I think there was either, somewhere between six and ten people, I don't have the material with me but I could get it for you. It was a very interesting meeting in that everybody came there with their baggage of where they came from, their old terminology, their own background, and at one point they brought a patient in and each of us went in individually and pointed out where we thought the problems were. The "Osteopathic lesion", the "fixation" or the "subluxation", the "spinal dysfunction", I think the Europeans called it, and we found that there was a strong correlation, we were all looking at the same thing. And so we debated terminology and recognized that many of us were talking about the same thing. Then we showed each other techniques, demonstrated techniques from each of the professional groups and found although they varied somewhat, they had a lot in common and what they were trying to achieve was very similar. So I think that was a good point, a good lesson for all of us, the differences were not as great as we thought and the commonalities were quite significant.

Dr. Seffinger:

So if you would summarize the whole journey that you've been on in these last thirty some-odd years, you were a catalyst for integration and interdisciplinary research in manipulation.

Dr. Haldeman:

I think the thing I'm most proud of is working to integrate or allow inter-professional integration. And the second component is always focusing on the science and feeling that the science is the unifying factor. That if we don't have the science to anchor our opinions and our positions, they become free floating and serve as the basis for conflict and disagreement. If we focus on the science, and we each look at the same scientific material, we may not be in complete agreement, but at least we're talking the same language and we will reach very similar conclusions.

Dr. Seffinger:

Now you had so many successes, have you had any failures or things that you just could not get done?

Dr. Haldeman:

Oh, hundreds of them, of course. I think that, and I haven't really thought seriously about this, if I had to pick the single greatest shortcoming has been the difficulty, and I think this is a personal lack of skill, the difficulty in communicating science to the practitioners, the average Joe, not the instructors, not the guys motivated to read, they're easy to communicate with. There's a percentage of people who always come to the scientific meetings who won't communicate with you, they don't agree with you, but they are willing to sit down and argue with you and discuss, those people, I'm interacting with all the time. But there's a vast number of physiotherapists, osteopathic physicians, chiropractors, even medical manipulators, who never go to a scientific meeting and don't understand what is happening. Don't even know what's happening in their own field. They may read in magazines or occasionally in a journal or textbook after it's five or ten years out of date that something has happened, but they're not part of the discussion. And I think that anybody that's not part of the discussion is firstly not giving adequate service, but more important than that, is going to be hit with severe culture shock. The science is going to come and bite them really hard and they're not going to know how to deal with it. And we already see that some anger happens when guidelines all of a sudden dictates what is going to be paid for. When the science starts dictating who's going to get licensed or what courses are going to be given, who's going to do what. The people who are not part of the discussion get blind-sided. And many of these people are dedicated to their patients, they work very hard with their patients, they want to give the best service, but their not part of the discussion and their not keeping up to date. And I have found my weakness is the inability to communicate or find a means of communicating with the average practitioner who's isolated on a corner, in an office, treating their patients daily, but just not taking in the latest material.

Dr. Seffinger:

Who were some of your mentors? You mentioned Kirkaldy-Willis and people like Mennell.

Dr. Haldeman:

The mentors have been multiple. First of all, my father was a dominant mentor, he was the one who encouraged everything I did, formulated my career for the first many years, got me involved in the chiropractic and the world of manipulation and got me back into education, insisted on a part of education. He was no question, my primary mentor in early life. Then I had, for my Master's degree, I had Professor Mayer, who allowed me to do "my thing", as he said, which was study nerve compression. He had nobody in the department who had any interest in nerve compression. I came in with a Master's degree proposal. I said, "This is what I want to do." Most university professors will say, "That's tough. You can do it when you graduate. I want you to do what I want to do." And he said, "No, go ahead and do it." And he helped me write the papers, and publish a couple of papers, which were widely quoted for a number of years. When I went for my PhD, Hugh McLennon, who was my supervisor for my PhD, again, allowed me to do, even though I did his research, because he was cutting edge research, he nonetheless allowed me to do the other things. He kept encouraging me to do everything else. Then, Professor Kirkaldy-Willis, throughout my medical spine career, encouraged me throughout, and guided me through the major associations, often nominated me for positions. I wrote a book with him. Right after my PhD, Sir Sydney Sunderland from Australia who wrote one of the foremost texts on nerves and nerve injuries, quoted my work, he communicated with me, and interacted, and despite his prominence in the world, being knighted for his work, he nonetheless, was willing to write a paper, participate in the first Conference of Chiropractic in 1980 and actually write a check for that. And I felt that this was a man who had no real reason to do so except he had the graciousness and he had the interest to go outside of his field, I'm sure he was criticized for it, and yet he had the strength of character to participate. When I came down to Irvine, I think my major mentor in neurology was Dr. Stanley Van Den Noort. He's a superb neurologist. He encouraged me and he taught me. I spent hours and hours and hours learning neurology with him. He took over the 41st Trust and continued to support the work we were doing. He supported me in many of the things that I have done, he asked me to organize two conferences on the manipulation and neurology department at UCI. He's still a friend and a mentor, even at this age. And I feel very strongly. And then there've been numerous other people that have been very close like Phil Greenman and the Osteopathic world, who has guided me through that world and many of the scientist that I've interacted with.

Dr. Seffinger:

Have you mentored other people?

Dr. Haldeman:

Yes. Sometimes you don't know you're mentoring people, but I've had a number of graduate students who are doing very well and are researchers in their own rights that I've worked with. A number of associates who have continued through the degrees. And since I've taught and communicated and interacted, for twenty years of my life, I had people here in my office every Saturday, and anybody who wanted to come and do research, we did research every Saturday in the office. And I had sometimes three or four young chiropractors mostly who would come out of the chiropractic school or chiropractic students who would come here, do the research, publish a paper or two, and they would often go on to advanced degrees. And then I've had a number of other people who've said, "Yes, you were my role model" or "the reason I went into my doctorate degree or the reason I did this was because I saw what you had done."

Dr. Seffinger:

You've been an inspiration to a lot of people.

Dr. Haldeman:

I think some of that.

Dr. Seffinger:

What were your greatest challenges in relation to the osteopathic profession? Did you find that you come up against any resistance with any of those people.

Dr. Haldeman:

Well, the osteopathic profession has been my most difficult group, although I have many friends within the osteopathic world, it has been the most difficult group for me to penetrate as a professional organization. I've been invited to many of the schools, as I said, I've been awarded, I received an award at Michigan State, and I've lectured at a few of the schools. I don't think I've ever been invited to an osteopathic meeting to present a paper or to be a speaker.

Dr. Seffinger:

Except for the state.

Dr. Haldeman:

Except for the California state. I mean on the national or international scene, not that that's important for me, 'cause I'm as busy as I want to be, but my concern has been that on the national level, the osteopathic profession has been isolationist and has not been willing to share and to receive information from the rest of the manipulation world. I don't think it has served them well. I think that had the manipulation arm of the osteopathic profession been part of the scene, participated in all the major manipulation events, had been to all the major manipulation meetings, had sponsored some, been part of it, I think the profession would have advanced further and should be an even more dominant force than it is today.

Dr. Seffinger:

What advice do you have for future osteopathic physicians in training?

Dr. Haldeman:

I think osteopathic physicians have to make up their mind what they are. And I think that there are many, as I said, I have many good friends who are osteopathically trained, who function as orthopedic surgeons, neurosurgeons, family physicians, and the osteopathic component of their training is really incidental. It does provide a wider scope of understanding, and they tend to be more open minded, but in their basic daily practice or thought process, it doesn't play a significant part. That's fine. I have no problem with that. But I think that the osteopathic physician has an opportunity to make a choice. And that choice can be, "I would like to become a spine specialist. I'd like to focus on the spine." You know, 70% of the population has spinal problems so you'll never be short of patients. And I think there's an opportunity, given the background of the osteopathic world, for individual osteopathic students to say "I want to make this mine and my work. I want to study it, I want to practice it, the care of people with spinal disorders. I want to maybe do research in the field, I want to teach in the field and I want to be a part of the major associations that deal with spine care. I want to join the American Back Society, the North American Spine Society, the International Lumbar Spine Society. I want to go to the chiropractic conferences and the physiotherapy conferences and learn what these people have to offer so that I can be better and offer a better service. And I think they'd be accepted everywhere.

Dr. Seffinger:

What advice do you have for future allopathic physicians in training?

Dr. Haldeman:

Well, allopathic physicians, I don't think will ever become manipulationists. There is so much material they have to absorb and there is so much, so many skills that they have to consume, that they can never become manipulation specialists. A few, especially in Europe have decided to sub-specialize and make it their specialty. And that's a possibility. Any allopathic physician can decide, this is what they want to do. It will take them a number of years to become skilled because there is no real formal course. Most of them go to osteopathic courses and osteopathic schools for their training, some become very good. But I think there is a position for a non-surgical spine specialist. I like to think it's going to be a neurologist although my neurology colleagues sometimes appear less that enthusiastic about the idea. Theoretically, it could be the physical medicine people, but whenever they get into spine, they become a therapy directed spine, they do injections or they do some form of invasive therapy. They don't take care of the overall spine problem. Some retired orthopedic surgeons do very well and when they stop being surgeons, they've got such depth of understanding of spinal disorders that they can become a very efficient non-surgical spine specialist. They can't do both because surgery is, again, rapidly developing, high skills activity that you can't do part time. But I think there's a role; I think there's a position for a non-surgical spine specialist who spends their time and their energy taking care of this large percentage of the population which is not being adequately taken care of.

Dr. Seffinger:

You have already given us information, some documents and references and books, so I don't think there is much more to give us, you've been very gracious about that. Is there anybody else we should contact that was instrumental in the historical development of osteopathy in California that we should talk to that we haven't already?

Dr. Haldeman:

Well, you and I spoke before. I was not aware that Aubrey Swartz, for example, had graduated from here. He's been very instrumental in developing inter-professional relationships and it would be very interesting, I would be interested, next time I help him, I'm going to ask him what impact his professional education had on the direction he elected to go. And I would be very interested to find out with Jim Weinstein, who's an osteopathic physician, not as much impact perhaps, in California, but he is one of the most powerful people in the world in the field of spine care. You know, he's gotten the largest NIH grant in history, to look at spine surgery.

Dr. Seffinger:

He just did a report on it.

Dr. Haldeman:

That's right. This is the largest grant ever given for spine treatment by NIH or any other agency in the world. And this is one of the most prominent people in the world and he and I have been friends for thirty years. But it would be very interesting. I've never spoken to him about this issue and he would perhaps give an insight that you might be interested in.

Dr. Seffinger:

Okay, I can do that. I don't know if there's anything else that you would like to talk about. I just have one other question, if you don't mind. Looking back at the history in California, the merger between the two professions in 1962, do you feel, looking back, that that event had any impact at all on what we're seeing now, that you've explained to us, this tremendous interest in spinal manipulation or research in manipulation and interdisciplinary interactions between professions?

Dr. Haldeman:

I'm sure it had a tremendous impact. It definitely impacted the way osteopath physicians looked at themselves in California. You could feel that throughout both internal tensions and concerns. I think it changed the focus of osteopathy to some extent. And if it wasn't for groups like the 41st Trust and a few of the colleges that started off independent colleges, started off to keep the osteopathic world alive, osteopathy could have well been eliminated from California.

Dr. Seffinger:

Were you aware that one of the components of the merger agreement was that manipulation research would be undertaken by the California College of Medicine at UCI. That was one of the conditions by which the DOs gave up their degree and their school and it changed over...

Dr. Haldeman:

Yes, I'd heard of that, but I'm not that familiar with that history, but I was under the understanding that nothing happened until the 41st Trust came into being, until Dr. Grunigen started pushing buttons and making it happen which was ten, fifteen years later. But yes, I think that it was a group professional decision. It did bring into being the 41st Trust which contributed to everything else. Would it have happened without that? Who knows.

Dr. Seffinger:

Is there anything else that you'd like to address?

Dr. Haldeman:

No. I think that's more than I usually say on the topic.

Dr. Seffinger:

Thank you so much. Thank you for your time, giving us this wonderful interview, thank you very much.